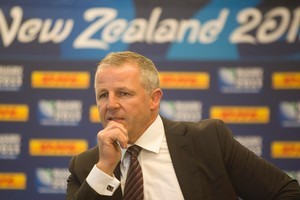 The All Blacks have the advantage of player depth over old foe Australia for the World Cup, says former skipper Sean Fitzpatrick.
But Fitzpatrick, speaking after Australia's 39-20 Tri-Nations opening round win over a weakened South Africa in Sydney, was not writing off the Wallabies.
"There were things from the Wallabies that will definitely raise an eyebrow or two in New Zealand," he said. "Very much so. If you give them an opportunity, like if you kick badly, you are going to get punished.
"We saw this in Super rugby and they have carried it over. I think they look quite ominous when they play their best 15. They are quite dangerous. They sent out a warning here. They said, give us an opportunity and we will nail it.
"But as we saw in the second half, their best 15 came off and with different players on, they lack depth. So their best 15 should start week-in week-out between here and the World Cup.
I would be playing the best 15 in order to gain that momentum and confidence to beat the All Blacks.
"As England did in 2003, they need that momentum going forward. Australia beat New Zealand in Hong Kong last November and they need to do the same thing in this competition to get that momentum going."
Fitzpatrick contrasted the Wallabies and South Africans' lack of strength in depth with New Zealand's situation. "Piri Weepu is going to be crucial as part of the squad," he said.
"In terms of Super 15 form you would go with Sonny Bill Williams [at 12] but it's crucial ... and that's where I think South Africa has missed an opportunity here ... it's vital to get your 30 key players into an environment where they can operate as an international team.
"We can see that from the New Zealand-Fiji game. Nonu looked like a different person because he is in that test match, All Blacks environment.
"New Zealand have two very good, world class No12s. I think [Graham Henry] will start with Sonny Bill and play with Nonu off the bench.
"We are lucky, we have depth to choose from."
Fitzpatrick was highly critical of the South Africans.
"You might say they battled back at the end. But I would be bitterly disappointed if I was a South African.
"They are going to come under extreme pressure from the South African public, the coach is going to be under extreme pressure and the captain will be under pressure even though he scored a good late try.
"They didn't give up but the game was well over by then. I think they have missed a trick here leaving all those experienced players at home. Some of them are injured, some need a rest," he said. "But they have lost a huge amount of momentum here. If they go to New Zealand this week and get another bashing, like another 40 points put on them, they are going to go back to South Africa under extreme pressure only ... a few ... weeks out from the start of the World Cup.
"They have given Australia and the other teams a glimmer of a hope with regards to the World Cup."
Peter Bills is a rugby writer for Independent News & Media in London.