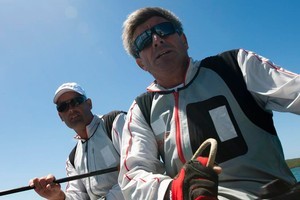 Helmets - check. Shinpads - check. Reinforced wetsuits - check. Lifejackets with extra padding - check.
America's Cup sailing now resembles a collision sport but Cup veteran Murray Jones is loving every minute of it.
Along with the radical switch in design from monohulls to multihulls, there has also been a pronounced change in the experience on board for the sailor. As the catamarans fly across the water, it sometimes seemed that they have a mind of their own, as the sailors struggle to control the craft and can get bounced around like a pinball. It brings to mind the image of the large greyhound taking its owner for a walk, while former America's Cup skipper John Bertrand compared it to "trying to tame a wild stallion" after a recent stint on board.
Jones now goes to work with the sailing equivalent of full body armour - and still ends each day covered in bruises. It is quite a rebirth for the 53-year-old who has needed a profound attitude adjustment. While he would often scale the mast on the old America's Cup yachts at Team New Zealand or Alinghi, it was still a much steadier experience.
Now it is goodbye cruising, hello bruising but Jones has the enthusiasm of a schoolboy ahead of the inaugural America's Cup world series event in Cascais, Portugal, early next month.
"On these boats, you can just get hammered," says Jones. "I come in each day covered in bruises; you can get so knocked around. They are very physical boats and you can't let up for one second."
As well as the ferocious speeds the multihulls can reach, with the AC45's capable of up to 25 knots in high winds, the five-man crew have to navigate across the craft as it slashes from side to side. Not only that, but they are walking on a surface that is akin to a trampoline and balance is difficult if someone else is on it. It's even more treacherous when it's moving at high speed, on water. The old monohulls were always quite smooth," explains Jones. "They tended to move with the rhythm of the waves, gliding across the water. These boats are often not that smooth. It can be a very jerky motion as they power through the water."
It makes moving from one hull to another difficult, and there are any number of solid objects to damage yourself on. In the words of one scribe, the crew need to be sprinters and weightlifters all at once.
As part of the learning process, Oracle have gradually added more kit to their on-board uniform, to the point where helmets, shinpads, reinforced wetsuits and lifejackets are now mandatory.
"You are bloody sore sometimes and it is pretty hard to get up at 6.30am and head to the gym," Jones says, "but you can't get enough of it. There is so much to learn, it is very enjoyable sailing and such a challenge.
"Even when we capsized [in San Francisco last month] we still wanted to get back out there."
Jones has been involved in four victorious Cup campaigns, with Team New Zealand in 1995 and 2000 then Alinghi in 2003 and 2007. An original member of Coutts' 'famous five', he joined Oracle in May last year and has since been followed by Simon Daubney.
The American syndicate will have two boats in Portugal: Oracle Racing Spithill - a young crew with James Spithill as skipper - and Oracle Racing Coutts helmed by Coutts and featuring Jones, Daubney and Matthew Mason. Despite the familiar names, Jones, who will be wingsail trimmer and tactician, says the dynamics on board are quite different.
"Communication is a lot more difficult," says Jones. "It is very noisy, especially with the wind noise upwind. It means people have to take the initiative. They have to be all-round sailors rather than waiting for commands. It is difficult to have a set strategy."
The complexity is compounded by the fact the sheer speed of the AC45's mean a much higher margin for error, but also less time to make decisions.
"Everything is happening so much faster," says Jones. "But decisions have to be made on the hop; On these boats there is a big difference between getting it right and wrong. A bad call and your opponent is off into the distance before your know it."
"[It is like] you speed up a normal yacht race by a factor of three -300 per cent in terms of decision making [and] all hell's breaking loose - in a controlled manner of some sort," Bertrand told media earlier this year.
On the counterside, Jones also points out that the fine art of covering, and providing dirty air for your opponent is not as easy; holding a lead will not be a given and there will be plenty of opportunities for passing.
While Oracle, Artemis and Team New Zealand are the undoubted favourites, Jones expects some close racing in Portugal and maybe even a few surprises.
The event is Portugal will be followed by regattas in Plymouth (September 10-18) and San Diego (November 12-20).
Murray Jones
Age: 53.
Birthplace: Lower Hutt.
Nickname: The Captain.
Jones pioneered the new position of wind spotter aloft in the rig of the old America's Cup boats and is a member of the Cup Hall of Fame. His wife Jan Shearer won a sailing silver medal in Barcelona (1992), while the unlucky Jones finished fourth in his event at the same Olympics.