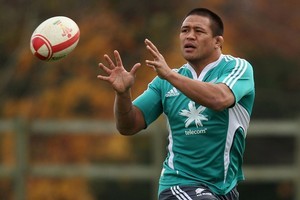 Persuading a handful of overworked and heavily fatigued Crusaders and Blues players to head home on Wednesday morning was easy enough.
The real battle for the All Black coaches will come during the away leg of the Tri Nations when only 26 players can travel. It won't be so easy then to convince some senior figures that it's in their best interests to stay home.
But inevitably some players who will be desperate to be involved might have to endure the frustration of being kept in New Zealand so they can rejuvenate ahead of the World Cup.
Since the team came into camp last Sunday, the coaches have worked through individual plans based on consultative assessments. Many of the Crusaders and Blues captain Keven Mealamu endured big workloads during the Super 15, with the former also having a massive travel and emotional burden thrown on top.
Once the 22 for Friday night's game was picked, those not involved were allowed to go home and spend the time with their families.
"We have made a lot of decisions about individuals and how we can get them to be the best they can be over the next few weeks," coach Graham Henry says. "Some guys have got a wee bit of space now so they can come down and come up again. Others will have that space later on in the tournament.
"When you are in this environment and you talk to these guys - and you can see it in their eyes and in their body language - if we don't give them some space they are just going to die. They are going to be dead men trying to play rugby and that is going to have a horrible result."
Missing a one-off test against Fiji is not such a big drama in the context of the bigger picture. Players never like missing out but they can appreciate there are harder, more important battles ahead.
And it is when the tension rises and the stakes are higher that the diplomacy and persuasive skills of the All Black coaches are going to have to be at their best. No one will want to miss out on the final leg of the Tri Nations.
Even those Crusaders who have been around the world three times already this year will want to be on the plane. It's human nature. No matter what assurances are provided, no matter how much it might be in the best interests of the team and the individual, no one will be happy about being left behind.
There is still competition for squad places in many areas. There are still more than a handful of players uncertain as to whether they will make the World Cup.
The squad for the tournament is announced just a few days after the All Blacks test in Port Elizabeth on August 21, so the game against the Boks is the last chance the fringe contenders will have to impress. Complicating the picture further is that at least three of the four injured players named in the Tri Nations squad are hoping to be available for the away leg - Isaia Toeava, Israel Dagg and Tony Woodcock.
It might also be that the coaches feel they want to have one last look at a couple of other fringe contenders in that game and decide to leave at home some cast-iron certainties.
There is a fair point to be made - as the Springboks have - that a few of those certain of their places in the team, who may already have endured a horrific travel schedule, don't need to get on the plane so close to the tournament.
While the All Blacks are always mindful of their obligation to preserve their legacy, some leeway to trial fringe players while resting others has to be given in a World Cup year. It is New Zealand's burden now that the All Blacks are held prisoner by their previous World Cup failings.
There is never any shortage of dissenting voices when the All Blacks rest players, yet those who criticise would also be the most aggressive should the national team crumble at the World Cup as a result of fatigue.
Henry and his coaching team haven't yet formalised their plans for the latter part of the tournament.
"We just don't know how people are going to come through," he says. "We can only take 26 players to Port Elizabeth and Brisbane. We have got some feel about the Port Elizabeth game but we need to play the two homes games and see how people come through and assess injuries."
Whatever they decide, it will be tough convincing the players and the public they are doing the right thing.