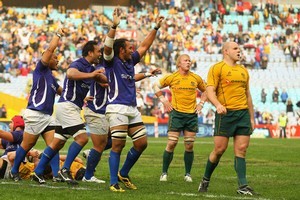 There has been a cruel and spiteful inverse dynamic when it comes to Samoa in that the more they achieve, the more some in the established rugby world want to chop them down.
Last week's thrilling win against Australia has had the direct effect of lifting Samoa's confidence ahead of the World Cup while also giving the rugby romantics a sense of hope this tiny island nation can once again steal the show.
But, unfortunately, it will also have had indirect impact - and will have set off a chain of events, the consequences of which won't be felt for some time.
The established rugby order, particularly the Celts, have only ever seen Samoa as a threat. Wales have never processed the humiliation they felt after losing to Samoa in 1991 and their ability to embrace Pasifika was hardly improved by losing to Samoa again in 1999 and then to Fiji in 2007.
The Celts have a seat at the top table and don't want to give it up. They are acutely aware that Samoa, tiny little Samoa, has playing resources they can only dream of.
Scotland, Ireland and Wales are also acutely aware that if Samoa could be given organisational stability and an economic footing, they could become an instant contender - not necessarily capable of winning a World Cup but capable of pushing the big five close.
That thought never strays far from northern minds, which is why proposed changes to the eligibility laws have been repeatedly rejected in the last few years. Just as turkeys don't vote for Christmas, the Celts were never going to sign off on a proposal that would have allowed the Pacific Island nations to retrieve All Blacks and Wallabies who were no longer required by New Zealand and Australia.
The justification for rejecting the proposal was to protect the credibility of international rugby. Yet none of the Celts seemingly believe that England picking four New Zealanders, three South Africans, an American-Italian and a Tongan in their extended World Cup squad tarnishes the credibility of the game.
Victory in Sydney will only have hardened attitudes to find ways to make life tough for Samoa at an institutional level. The IRB will soon finalise their long-term capital expenditure plan on growing the game in developing nations.
It would be a major surprise if Samoa receives much investment. They pocketed £2.2 million the last time around and that will most likely be their lot.
The Tier One nations shared £14 million in the same funding cycle and then voted to award themselves another £1 million each in every World Cup year. The IRB revel in their supposed generosity yet they granted the richest nations - who have massive broadcast and sponsorship deals in place and major revenue-generating power - more money than they did Samoa.
Of greater concern is how the Australians react to defeat. While New Zealand is perennially accused of stealing Pacific Island talent by an ignorantly indignant northern media, their ire should be focused across the Tasman.
Samoa's assistant coach Tom Coventry says the relationship with New Zealand administrators is strong and collaborative.
"We have been having discussions with the NZRU about certain players who are dual qualified to get a handle on where they sat in the All Black pecking order," Coventry said. "We were both pretty open with each other about players we were interested in."
It would seem as if a gentleman's agreement was in play. But such cordial exchanges are unlikely to be enjoyed with the Australians. New Zealand has always allowed Pacific Island players into its Super Rugby teams.
The Australians opened their system only in 2008 and have done so in the most sinister way. When they announced the introduction of their "marquee" policy, where each franchise can sign one non-Wallaby eligible player, there was also the provision which allows one other player to fall outside the salary cap. The catch is this is player's eligibility can't already have been captured and the Australians have barely hidden their intention - that this was set up to enable them to lure young Polynesians to Australia and convert them into Wallabies.
Nothing is likely to make the Australians want the Pacific Islands' best talent more than the bitter taste of defeat. What better way to depower Samoa than lure their next generation of players with a bag of money and a gold jersey?