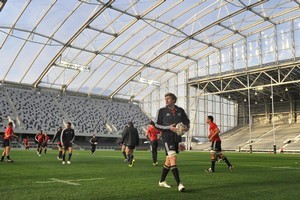 The new stadium in Dunedin is likely to steal the show at the World Cup and could also revolutionise the rugby experience across the country.
Built for less than $200 million - with 30,000 seats and a permanent roof - the Forsyth Barr Stadium is already attracting interested parties from Australia who are keen to see if they can build something similar across the Tasman.
It is likely to be only a matter of time before inquiries are made from other parts of New Zealand as the new facility ticks every box.
Dunedin, from being the forgotten city of the South Island - thrown the occasional test more out of sympathy than anything else - will now be the natural choice for major events.
The danger for other cities across New Zealand is that they will fail to attract sporting fixtures and other events the way they once could as organisers and promoters will prefer to be in Dunedin.
Christchurch is probably the obvious place for a similar venue to be built. The future of AMI Stadium isn't known yet but reports suggest the damage is considerable. It also begs the question that, if significant redevelopment work is required, would it make sense to plough money into fixing something that is in a volatile spot?
A longer-term alternative might be to consider a new venue - purpose built for sports played on a rectangular field and with a roof.
The uncertainty is whether other cities would be able to achieve the same design at the same low cost.
Malcolm Farry, the driver and leader of the consortium which built the Forsyth Barr Stadium, says executives of Eden Park got in touch in 2006 suggesting it was going to be impossible for his project to come in on budget.
They couldn't work out how Dunedin could build a new stadium with a roof for $188 million when their estimate for a roof alone was significantly higher.
"I think we are very good at making money go a long way in this part of the world," he says. "We had a pot of money and we were strong about sticking to the design. If the architects came along and said 'you could have such and such for an extra $3 million,' we would say 'no'."
Strong management was the key to building the stadium on budget which is why there isn't necessarily any impediment to the design being achieved elsewhere. And when the key goals of the stadium are explained, it is hard to believe other cities wouldn't be interested in having something as good.
"When we were in the planning stage, we wanted to build something that was going to be future-proofed," Farry says. "We could see people were going to buy bigger and bigger TVs for less money and could be sitting at home with a fridge full of beer and food watching their 50-inch TVs.
"We saw we were competing against them so had to build something where the seats were excellent, where the view was excellent and where the bars and food were excellent so people could have a great experience and then remember that, oh yeah, the All Blacks are out there on the field, too."
The early signs are strong that former members at Carisbrook have already snapped up seats at the new stadium and that the Highlanders will be playing in front of healthy crowds next year. It's also a selling point for players considering a move.
The challenge will be making sure people continue to come beyond the honeymoon period. Numbers surged in Wellington after Westpac Stadium was built but have started to slowly drop off.