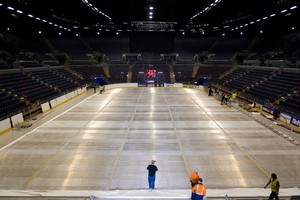 The hottest ticket in town will be on ice tonight when the United States play Canada in Auckland.
There is a contrived international element to the "exhibition" ice hockey game, which will involve just a few players with NHL experience.
But the match in front of 10,000 at Vector Arena will be ice hockey's finest moment in Auckland, a fantastic chance for locals to experience the sport at a level not far below the best.
A $4.2 million rink has been imported from Holland; it holds 200,000 litres of water frozen over three days.
The Americans will be led by Aaron Miller, a 39-year-old retired "defenceman" who played 677 NHL games with four clubs and won an Olympic silver medal in 2002. His rival captain, centre Derek Armstrong, has played 477 NHL games.
The Herald caught up with Miller, who promised a bit of fire on the ice.
How would you rate the teams, using the NHL as a benchmark?
All the players are professionals - many of them are from the AHL which is a step below the NHL. It is very difficult to put teams like this together because players are in off-season training or sorting out contracts. The promoters have done an unbelievable job in assembling these teams.
There aren't many sports in which Canada can sometimes play big brother to America ...
Ice hockey is probably the biggest sporting rivalry between the two - it is their game and they like to beat up on us but we are very competitive. Normally you wouldn't find the American and Canadian teams on the plane together. We are buddies but that will be forgotten on the ice.
What about the biffo? Ice hockey isn't the friendliest of games; do the players enjoy the fights?
Ice hockey is trying to get the fights out of the game but I like them. We police ourselves. There is nothing wrong with a fist fight - I don't think you'll see that on this tour but you never know.
Who was your childhood hero?
Everyone says Wayne Gretzky was the greatest [ice hockey player] but being a defenceman, I loved Bobby Orr. I was brought up in Buffalo, New York, with four older brothers who played and they were my real heroes.
Career highlight - the 2002 Olympics in Utah perhaps?
That was great but we lost the final to Canada which wasn't so great.
Lowlight?
I've had a dozen major surgeries. This game really beats you up - back, hip, knees, shoulders, jaw ... injuries are one of the reasons I retired.
Is the game growing?
It's getting huge in Europe. The game has got a lot faster whereas it used to have a lot of bigger guys playing.
What's the best advice you received?
My father used to always say S plus S equals S. It means sweat and sacrifice equals success. Later on I added another S at the end - for the dollar sign. I made a lot of money out of the game. I couldn't add it up but it has been good for me and my family.
So where do old ice hockey soldiers go?
I do some academy coaching and we've got a sports restaurant in Vermont with a lot of screens.
What's the best advice you could give to a budding Kiwi ice hockey professional?
Move. There's not enough ice here. But ice hockey is a great game to play socially. I love to skate twice a week.