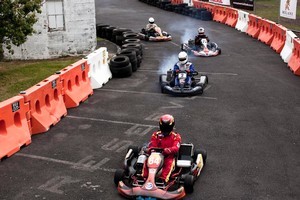 This week's column - well, up until last Thursday - was going to be about my glorious adventure into karting and how I got on at the first two rounds of the Mt Wellington Kart Club Three Way Series.
It's now going to be about round one and how I was unable to take part in round two. Previously, I mentioned my first practice and how my eyes were opened to the fact Rotax Light karts are not toys and barrel along at a mighty clip, especially when the throttle was mashed all the way to the stop. The bloody thing takes off like a scalded cat on steroids and before you know it you're into the corner trying to figure out how to stay on the tarmac.
After my initial foray at the Auckland kart track my next visit was to the Mt Wellington circuit where I would actually be racing in a couple of days' time. Unlike the Auckland kart track, Mt Wellington is quite a tight and twisty affair that keeps the driver working the kart all the time.
Knowing at this point what I was getting myself into, I decided to really have a go at trying to leave sensible brain behind in the car and get race head on. Again, I was being mentored, helped, guided, cajoled and pushed by Aarron Cunningham who has probably done more laps, and won more races, in karts than most folk have had hot meals.
He suggested - well, sort of told me - that the secret of going fast around the Mt Wellington track was to hold it flat through the kink at the end of the short start-finish straight and haul on the anchors before you chuck it into the tight right-hander heading into the infield. Yeah right.
The first couple of times I went through the kink I thought Aaron was taking the Michael as the kart slithered and twitched through said kink. Not a pleasant feeling I can tell you. Also, you may not be doing 160km/h, but with your butt cheeks mere millimetres off the deck, 80-90km/h feels fast enough, thank you.
After a couple of sessions of getting my lap times down, Aarron suggested it was time to hold it flat through the kink. I told him I was already doing that, but his reply was along the lines of: "I'm listening to the engine note and it's not working hard enough." Sure enough, later in the session he looked through the data and I wasn't revving it anywhere near hard enough.
Out I went next time and held it flat into the kink but got such a surprise at how fast the kart was going, drifted wide and dropped a wheel on to the grass. Anyone who has done any sort of motorsport on tarmac knows it's not a good idea to put a wheel on to the grass on the outside of a fast kink. Sure enough, the back overtook the front and off I went pirouetting on the grass and ended up halfway up the bank.
At least I learned nothing too traumatic happened went it all went pear-shaped. After another couple of practice sessions I got to within half a day of a quick lap time so went home to nurse my ego, arms, thumbs and calf muscles.
Turning up on race day was a complete eye-opener - there were karts and people for Africa. Ages went from about 7 and 8 to over 50 and the skill level started with me, through to some damn fast 10-year-olds to drivers like Daniel Bray. Now this bloke is a professional kart racer in America who just happens to be leading the US championships, where at some meetings over 250 karters turn up.
Being a novice I was scheduled to start at the rear of the field for the races during the day, which suited me fine. I reckoned I'd keep out of everyone's way and over 10 laps I wouldn't be lapped. In the first race Bray howled past me, quickly followed by a freight train of four other drivers including Aarron, four laps after the lights went out. Thankfully the flag came out just in time to stop them lapping me again.
That was a hell of a wake-up call I can tell you.
The next race I went for it, and while being out of control most of the time, only got lapped on lap eight. By race three, I had the bit between my teeth and was determined not to get carved up again. The pack roared off in front of me but I managed to hang on to the back of it. Heading into the infield, eight or so drivers had a coming together and karts peeled off everywhere leaving me in about sixth.
While most of the drivers did in fact pass me during the rest of the race, it was only to get back in front so I wasn't technically lapped.
Come the feature race, I was well and truly in the groove and determined to go for it big time, and big time I did. Driving well beyond my meagre abilities, I thought I could easily keep up with rest of the field - only to become badly unstuck in the infield. The kart got completely sideways out of a corner but I kept my foot flat, why, I have no idea. The kart then snapped instantly back the other way mounting the inside curb and jumping into the air before
smacking back to earth.
I felt something jam in to my ribs but thought nothing much of it. I was a bit sore the rest of the afternoon when packing up, at the prizegiving and on the drive home. The next morning I was stiff in a number of places so thought nothing of my ribs. Things didn't improve over the next week and really got worse when I tried to get up off the floor after watching TV.
The next day I trundled off to the doctor who suggested I get an X-ray. Sure enough, I'd fractured a rib and was told to take it easy for the next few weeks. Hence no racing last weekend.
Karting is proper racing, and yes it can be used as an entry level for children to go on to bigger and better things, but it's also a grown-up motor racing sport that, when you get it wrong, can hurt.
I have a long break before the next round so should be fit for action. I'll keep you posted as to how I get on.