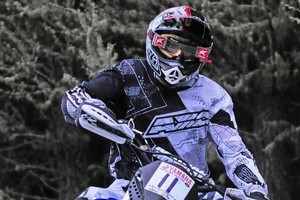 It is the final chance to achieve New Zealand Enduro Championship glory for the nation's elite dirt bike riders this weekend.
The riders head to the Taupo region on Saturday for the sixth and final round of this year's Yamaha New Zealand Enduro Championships knowing that nothing less than punishing pace and pure perfection will be enough if they hope to clinch a title at this late stage in the competition.
Taupo international Rory Mead (Yamaha) is the favourite, but he can't take anything for granted because - despite his success in the United States in recent weeks and the fact that he leads this domestic championship comfortably - a gaggle of talented riders could beat him at Taupo on Saturday.
Fellow Kiwi international Karl Power (Honda), just back from a solid Australian 4-Day Enduro Championship campaign, and riders such as Mokau's Adrian Smith (Yamaha), Tauranga's Reece Burgess (Husaberg) and Hokianga's Mitchell Nield (Gas Gas) are all capable of beating Mead.
However, with four outright wins in a row, Mead is edging ever closer to the national motorcycling title he last held in 2009 and it may take a miracle or disaster for anyone to deny him.
Other riders to watch out for this weekend include Nield's younger brother Damon (Husqvarna), Power's cousin, Chris Power (Honda), from Auckland, and Auckland foursome: Sam Greenslade (Husqvarna), Michael Skinner (KTM), Callan May (Yamaha) and Caleb van Dragt (KTM).
Taranaki's Dougy Herbert (KTM) and Thames rider Shaun Prescott (Husaberg) could also impress.
In addition to outright honours, the riders are vying for individual bike class honours on Saturday.
Burgess narrowly leads the battle for the over-300cc four-stroke class title, Skinner heads the over-200cc two-stroke class, Mitchell Nield is on top of the under-200cc two-stroke class, Karl Power heads the under-300cc four-stroke division and Tokoroa's Shaun Clarke (Yamaha) heads the veterans' (over-40) category.
A slip-up by any of these front-runners could see a different winner named.
The venue is just off State Highway 5, the Taupo/Rotorua highway, just north of Wairakei.