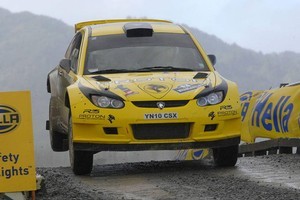 Asia Pacific Rally Championship driver, and Aussie to boot, Chris Atkinson held off a spirited charge from Kiwi driver Hayden Paddon to become the first overseas driver to win the International Rally of Whangarei.
Paddon, a three-time winner of the event that is round four of the APRC and New Zealand Rally Championships, was undone on day one through a broken suspension part.
Atkinson took advantage and was never headed ending day two of the rally 12.4secs ahead of Paddon. Richard Mason, after a spirited drive, was a further 1min 35secs back with Chris West rounding out the top four.
"It was good fun having a fight with Hayden but our car was working really well this weekend," said Atkinson.
"I didn't take any massive risks but pushed hard all day and we had to do our best to hold him [Paddon] behind us."
Paddon, who was using the event to develop his world championship campaign, was keen to do well and was aiming to get another win under his belt.
"After the first stage after service today we were pushing it and took three or four seconds out of his lead [Atkinson's] and if we carried on like that it could have got quite close," said Paddon.
"Chris did an awesome job and we've been pushing pretty hard. Setup-wise the car hasn't been perfect but it was good enough to push hard."
Heavy rain had pummelled the Northland area for several days before the event, causing wet and slippery conditions for the drivers. Showers over the two days of racing didn't improve matters much and clay dragged on to the hard-packed gravel roads made matters worse.
At one stage on day two, Atkinson's lead over Paddon had pushed out to 17.2sec but the afternoon's stages saw the Kiwi driver claw back the advantage to close the gap to 12.3sec at the end of Stage 13.
However, Atkinson winning the next stage countered Paddon's charge with both drivers setting stage records for their respective classes.
"It was one of those battles that was very enjoyable. In this rally we've had to battle from behind and it'll bode well for the next [PWRC] round in Finland," said Paddon.
Mason, driving his borrowed Chinese Mitsubishi, had really come to grips with the new car and was attacking third-placed Alister McRae, closing to within two seconds at one stage. By rally end, Mason had leap-frogged McRae to take third place and a well-deserved podium in a car he hadn't driven before.
"We're very happy as I'm sure the team is with the APRC points," said Mason. "We were fighting with Alister [McRae] until he had problems on the penultimate stage but we were eating into his lead before that anyway."
Atkinson took line honours at the end of day one to lead Paddon by 6.2sec with McRae a further 32.8sec further back.
Paddon started the day well, setting the fastest times in the first two stages but ended stage two with a bang when he left the road.
The incident resulted in Paddon's comfortable advantage morphing into a 14.5sec deficit with Atkinson gaining the advantage.
Emma Gilmour had a solid start to her rally, sitting in third place midway through the day, only to drop back through the field to finish day one in fifth, her final placing also, after the car developed a miss.
Mason began day one well within himself and soon settled into a good rhythm in the afternoon to finish the day in fourth place and retain the domestic championship lead.
The next round of the national championship is Rally Hawkes Bay scheduled for August 20-21, while the APRC drivers head to Rally Hokkaido in Japan in late September.
APRC POINTS
* Chris Atkinson - 109
* Alister McRae - 88
* Gaurav Gill - 63
NZRC POINTS
* Richard Mason - 410
* Hayden Paddon - 384
* Emma Gilmour - 322