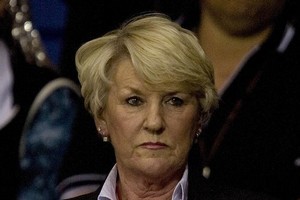 It's always easy in hindsight, but it is interesting how prophetic the words of Sharelle McMahon and Norma Plummer were in the lead-up to last Sunday's final.
Speaking hours before the game, McMahon was asked for the possible chinks in the Silver Ferns that the Australians might target.
"Sometimes the Ferns can get a bit tentative," she told the Herald on Sunday, "and not let the ball go and not let it flow. I think that the pressure that Australia can put on in defence will make that even harder and more likely. That is what I think they will target."
As the second half progressed, and especially in overtime, the Ferns struggled to get the ball through the court.
Plummer was bullish all week about her young, relatively inexperienced team, which at the tournament's start featured four players (Chelsea Pitman, Caitlin Bassett, Sharni Layton and Erin Bell) with a combined total of seven caps.
"I'm not at all worried about my young team," Plummer said after the semifinal. "They all line up against Ferns in the ANZ Championships - it is not like they are coming from the Pakenham thirds. They know their weaknesses and where they have to target things."
Plummer also correctly predicted the strength and impact of her bench - the introduction of Pitman, Bassett and Laura Geitz turned the match.
"Our bench will win us the game," Plummer said pre-final. "You need 12 working players and I believe that those options make the difference between getting over the line and not getting over the line. We don't necessarily have a top seven - it is horses for courses and we will see what happens in the game. If the Ferns change up their game, we have to be smart enough to pick it up quickly and not lose a couple of shots because we haven't identified that. That wins games and loses games."
Perhaps the most sobering fact was that there was a warning in Delhi.
In the afterglow of that Commonwealth Games triumph, it was easy to overlook the fact that the Ferns had led by seven goals with just 10 minutes remaining before the Aussies came back to force overtime.