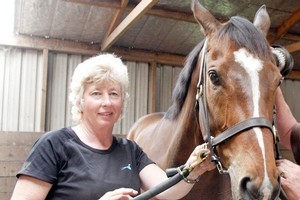 Dawn and Peter Williams, two of the South Island's best trainers, are re-locating to Auckland.
The training partners from Christchurch have just signed a deal to establish a new base at Byerley Park in Kingseat.
"We'll be moving after the Cup meeting here at Riccarton in November," said Peter Williams yesterday after signing up.
The partners are adamant they are not running away from the earthquake. "We've looked to move north for more than five years," said Dawn Williams.
"The only thing that stopped us five years ago was that we hadn't sold our property and the only options to us up north were to buy.
"Then we got involved in an investment in a spelling property, so we were pretty well set up down here and the push to move north cooled a little.
"What's changed that now is that we're leasing the boxes and a house and staff stabling accommodation from Byerley, which means we don't have to sell our Christchurch property.
We're renting it out, which is a good deal because it's on the city boundary."
The pair say they chose Byerley because they have gone off the idea of Cambridge and Matamata, where they originally looked to relocate to.
"We feel Matamata and Cambridge are stocked up to their limits with horses and, anyway, we like the idea of being in Auckland, where it's close to the racing."
The Williams have had great success in the north and particularly at Ellerslie.
"Winning the 1988 Auckland Cup with Sea Swift was probably our biggest thrill in racing," says Dawn Williams, "because I owned a third share in her. She won a lot of money for us through that period when it was very important."
The other major success was Loader's victory in the 1996 Railway Handicap at Ellerslie. Both Sea Swift and Loader were ridden by Chris Johnson. "O'Reilly Rose was group one placed for us in the north and Richfield Destiny won the Bluebird [more recently the Dunstan] series at Ellerslie."
Peter Williams got two of the northern horsemen he respects in Trevor McKee and Colin Jillings to inspect the new base.
"Both gave us the go-ahead."
One thing Peter Williams says he won't miss is the constant South Island travelling.
"It'll be great to be at Byerley and close to the big races at Ellerslie."
The reason for delaying until November is the stable's contenders for the 2000 Guineas at Riccarton in November.
"It wouldn't make sense to move them north then have to travel them back for the big races here," said Peter Williams.
Among those looking at the Guineas will be Shuka, who stylishly won the Westbury Stud Wakefield Stakes Trentham in January, and Planet Rock, who impressed in coming from a wide draw and the back of the field for a close third in the Karaka Million in late January.
"For the move we'll be bringing about 15 horses, mainly young ones. We've gone through the team and re-located a few horses and we'll be catering for no more than 30 horses at Byerley. The great thing is the house we'll be living in is close to the stables so there will be no travelling to get to and from the horses."