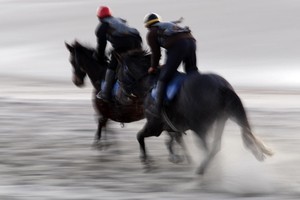 Racing bosses are confident Trentham's premier meeting on Saturday won't be the next victim of the wild winter weather.
The seemingly never-ending rain claimed its second northern race meeting in five days yesterday when the Counties meeting at Pukekohe was abandoned.
While the track was going to provide very heavy going, it was a particularly deep, slushy patch between the 600m and 500m that caused stewards the greatest concern.
"That, coupled with some surface water and another very wet patch after the winning post made it unsuitable for racing," said Racing Integrity Unit chief Cameron George.
"We know it is frustrating for everybody in the industry but safety comes first and I think racetracks anywhere in the world would struggle with the amount of rain we have seen here lately."
But further south the consistently heavy going at Trentham could save Saturday's meeting, which hosts the Wellington Steeples and Hurdles, as well as the Parliamentary and Whyte Handicaps.
Stipendiary steward Ross Neal inspected the track late yesterday and described it as "sodden".
"It is very, very wet and is obviously going to be rated a Heavy (11) on Saturday no matter what happens," Neal told the Herald.
"But it is still a very consistent surface, it is just wet all over, which means it should provide safe racing.
"The weather forecast is not too bad for the next couple of days and while it is hard to predict these things I think racing will go ahead on Saturday."
That will please punters game enough to attack the winter wonderland which is Trentham at this time of the year as well as industry insiders stung by the recent abandonments, which rip money from the pockets of owners, trainers and jockeys.
But New Zealand Racing Board acting chief executive Bill Colgan says while losing any race meeting is not ideal, the damage to the industry here is not as severe as it would have been under similar circumstances five years ago.
"We have so much product [racing] coming in from overseas we can negate the damage to turnover quite a bit," said Colgan.
"On a day like today we would hope at least 50 per cent of the turnover lost through Counties being abandoned would be invested elsewhere, either domestically on the dogs or on the Australian racing we bring in.
"So that means the overall turnover for the day won't be affected quite as badly as some people may think and that all adds to the bottom line we distribute back to the industry.
"But, of course, losing any meeting is not ideal and is hard on the people involved with those horses."
Colgan would not be drawn on whether the spate of winter cancellations, which seem more prevalent than a decade ago, suggested it was time for further research into the feasibility of at least one synthetic thoroughbred track in the North Island.
"We had a greyhound meeting cancelled recently because the weather was so bad and they race on what are supposed to be all-weather tracks," said Colgan.
"But that really is a question for New Zealand Thoroughbred Racing."