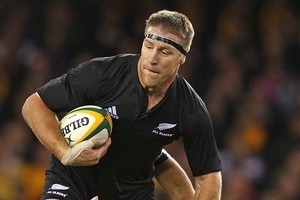 Looking for a World Cup omen?
Here's one - the All Blacks' top starting side might be older than the English team which won the 2003 World Cup final in Australia.
Yes folks, Ted's Army will be older than Dad's Army, the nickname given to Clive Woodward's victorious mob. His English troops were allegedly so well aged that youngsters gave up their seats for them on the bus. Well, that was the image, if not the reality.
By my calculations, the England team which started against Australia in the final averaged a touch over 28. The following is a lineup Graham Henry might have in mind: Mils Muliaina, Hosea Gear, Conrad Smith, Ma'a Nonu, Zac Guildford, Dan Carter, Jimmy Cowan; Kieran Read, Richie McCaw, Jerome Kaino, Brad Thorn, Ali Williams, Owen Franks, Keven Mealamu, Tony Woodcock. If this team happened to start the World Cup final in late October, the average age would be close to 29.
Good omen or bad - take your pick.
A conclusion to be drawn is that the 2003 England team were not nearly as old as their nickname suggested. They weren't spring chickens, but were hardly rugby geriatrics. Reports on the 2007 World Cup point out that the English team that year was older than their World Cup winning predecessors.
That 2003 team did play an old man's game however, something that also suited their young whipper snapper first five-eighths Jonny Wilkinson. Woodward's men were confident under pressure, miserly with the ball, and everyone knew their roles through and through. They didn't have many game plan options and nor did the South African side which won the Webb Ellis four years later. The All Blacks and Wallabies have all the attacking talent right now - and yet flair has meant stuff all at the last two World Cups.
Cynical and clinical - that has been the winning formula, and probably will be again.
So ... Ali Williams or Sam Whitelock? Tony Woodcock or Ben Franks? Mils Muliaina or Isaia Toeava/Israel Dagg? Hardened battlers versus the bright new talent? A grizzly "old" All Black team might be just the ticket ... just another theory.
* * *
Speaking of Ali Williams ... all power to the bloke for a fantastic comeback. He's not the player I remember, the one who was a terrific ball runner. Then again, the game has become clogged up and there isn't a lot of open field running any more.
Williams is still a serious lineout force and that will be absolutely crucial in the World Cup. He's prominent enough around the field - he's one of those players that you always notice - and the All Blacks will treasure his upbeat nature. Coming back from two major leg injuries is no mean feat.
At his age, and with such a long layoff, Williams has had to reinvent his game to a degree. Rehabilitation from serious sports injuries is a long, arduous process. It takes a lot of willpower. Men who have revelled in team environments find themselves on a lonely trail having to live on hope, and wondering if endless, boring and repetitive exercises will prove worthwhile while having no outlet for their competitive juices.
Top sportsmen and women almost always list the lowlights of their careers as injuries. If Williams does make the World Cup squad, he will have beaten the odds.
* * *
Oh what fun. The ITM Cup begins this week, with matches during a contracted season spread from Tuesdays to Sundays. For those unhappy about this, rest easy. You don't have to go footy-less because the NRL steps in with Monday night league matches to cover for this unfortunate gap in our provincial rugby programme.
* * *
The Blues are about to strike it lucky if a Herald on Sunday story is on the mark in predicting Sonny Bill Williams and rising Canterbury fullback Tom Marshall will join Ma'a Nonu in the north.
Anything to stir up Auckland rugby is a bonus, even the arrival of players such as Nonu and Williams who - like Stephen Brett and Luke McAlister - probably won't be around for long.
The excellent Rudi Wulf has also returned from overseas - so with Rene Ranger and Isaia Toeava in the ranks, the Blues might field a sensational backline. This doesn't mean they'll win anything, although you'd wager that a backline like that would be almost unstoppable on their day. If the crowds don't turn up for that lot, they never will.
And a few exciting, star-studded seasons might provide a platform from which the Blues can organise a better future, and one which involves developing star players and winning formulas of their own. Most Blues fans will hope the drum beats are right.
* * *
Luke McAlister has looked lost all season so I'm not surprised he couldn't find his way to the North Harbour team's training - the reason why new coach Liam Barry has dumped the fallen star from his opening ITM Cup round lineup. Anyone who has made a McAlister sighting might ring the North Harbour rugby union, although I understand a reward is not being offered.
* * *
Netball's post-test ritual whereby opposing teams huddle together is quirky but nice. Australia and New Zealand carried on the tradition after the world championships final in Singapore and as in the game itself, the Aussies looked happier in the circle. Here's a top five of the most unlikely teams to get in a huddle after battle.
1) England and France in any sport.
2) The Queensland and New South Wales State of Origin teams, especially after Mal Meninga's wee meltdown.
3) Barcelona and Real Madrid (or Manchester United and City) in soccer.
4) Ford and Holden at Mt Panorama.
5) Europe and USA after the Ryder Cup.
* * *
Mal Meninga will go down as among the poorest winners in sports history. Most victors sip champagne. If Meninga did, he quickly spat it in New South Wales' face.
In case you missed it, Meninga described New South Wales officials as "rats and filth" in a vitriolic attack after the Maroons had won their sixth consecutive State of Origin series. His anger was apparently raised by a column describing him as a figurehead coach who was more a motivator while his assistants did the technical stuff.
An interview with the Queensland star Cameron Smith appears to partly confirm that this indeed is how the Maroons coaching arrangement operates. Meninga should take the credit for whatever works - ultimately, that is what a coach is measured by.
As I understand it, Ricki Herbert allowed Ryan Nelsen to play a dominant role in the All Whites' World Cup strategies, assisted by a few senior players. Herbert should be praised for this, because it was logical and worked although Nelsen's illness for the final group game against Paraguay in South Africa left the All Whites struggling for obvious leadership.
Meninga has had a meltdown. He doesn't sound well. His comments make great newspaper copy and will fire up the fantastic mate-on-mate state rivalry. But "rats and filth" is a slur too far and a sad footnote to one of the finest league careers.