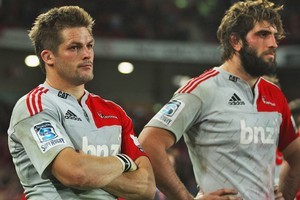 An Australian side playing party poopers? That can't be a good omen for New Zealand rugby in World Cup year.
But for the watching South Africans, there were some highly valuable lessons to be learned from last weekend's Super 15 final in Brisbane.
Firstly, a New Zealand side that most assumed would lift the trophy was denied at the last gasp. An omen for the World Cup? It must have given encouragement to John Smit and his men to see the seemingly invincible Kiwi team beaten on the crucial occasion. Maybe New Zealand rugby players have still not got that monkey off their backs of falling over the major hurdle in the biggest competitions.
Then there were the clear lessons regarding the potential weaknesses of some of the key Australians.
Not least among them was that Australia's World Cup half-back looked about as shaky as a plate of jelly for much of the final. Sure, it was a bitter irony that Will Genia effectively won the match for the Reds with his arcing run from 58 metres to score the decisive try.
But assuming the Wallabies' future opponents don't plan on leaving huge defensive gaps in a crucial World Cup semi-final or final, they should have learned important lessons from this final.
If you can get to Genia through forward power and supremacy, then the Wallaby can become seriously unhinged. Like his whole team was for most of the first half at Suncorp when the Crusaders did exactly that.
Genia made errors that would have embarrassed a schoolboy, delaying clearance kicks so long some were charged down, fumbling and knocking on at the ruck base and generally allowing his game to disintegrate as the Crusaders got on top up front.
Robbie Deans may be delighted that an Australian side has won the Super 15 in World Cup year. But he won't have been so thrilled to see Genia, his first choice half back, allow the pressure to get to him so much.
In truth, there was another reason why the Crusaders came up short in this season's final.
Exhaustion crept insidiously into their bodies, like some silent assailant, in the last quarter of the game in Brisbane. Crusaders captain Richie McCaw was too magnanimous to offer travel fatigue as an excuse for defeat. But to have to go to faraway Cape Town for the semi-final was one thing.
To have to head to Brisbane for the final seven days later at the end of a quite exhausting season which included a trip to London and a complicated journey for just about every game they played, finally affected even the super Crusaders. They did their mighty best but that last, top notch 3 or 4% was not quite in their game in this final. There wasn't the same pizzazz or flow that is their trademark.
Increasingly, they began to make the mistakes redolent of weary sportsmen. Concentration levels waver and then drop as the fatigue takes hold, costing them crucial points.
Sean Maitland's dropped pass which cost a try early in the second half and the huge defensive lapse that offered Genia his crucial score were classic examples of the species.
The problem for the New Zealanders is that they now face a Tri-Nations competition that increasingly looks an irrelevance and nuisance, certainly in terms of the travel.
But two other things need to be said. The Crusaders remain a top class outfit and a credit to their shattered, broken city. Their play has given immense heart to their followers. How sad then that thousands and thousands of so-called Australian rugby 'supporters' could only boo and jeer when Dan Carter, one of the world's greatest players and a magnificent ambassador for his sport, lined up kicks at goal on Saturday.
It is to be hoped that New Zealand and South African supporters take note. Don't sink to the abysmal levels of the Queensland crowd in the home Tri-Nations games in the next few weeks and, in the case of the New Zealanders, in the World Cup this September/October. Show the world what true sportsmanship is about.
- THE INDEPENDENT