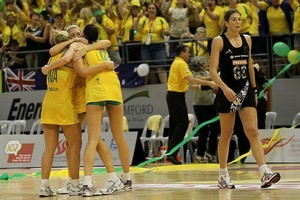 As the Australian national anthem played in the post-match ceremony after Sunday night's epic world championship final, Irene van Dyk stood clutching her silver medal looking absolutely bereft.
Her teammates on either side of her tried to quietly comfort her as she openly sobbed, but she was inconsolable.
Nearly 24 hours later, at the team's final media session before they dispersed to different corners of the globe, the hurt of the heart-breaking one-goal loss was clearly still too raw for van Dyk. The 39-year-old broke down in tears again as she described what was going through her mind when she climbed on to the runners-up podium.
It wasn't that after four years of hard work and toil they had come up one goal short. Nor was it that the Silver Ferns had let slip their opportunity to achieve something remarkable - back-to-back golds. And it wasn't that at 39 years old she has probably played in her last world championships.
It was the feeling that she had let down her friends and family, the hundreds of Ferns fans who had travelled to Singapore, and the hundreds of thousands more watching back home.
"When I looked up and saw all the New Zealand supporters still sitting there and they did the chant of how proud they were of us and I was thinking about the fact that we disappointed them," said van Dyk, trailing off as she choked back sobs.
"They walk this journey with us, and we let such a lot of people down."
The pain of the loss was also evident on the faces of Laura Langman and Maria Tutaia, who along with van Dyk, bravely fronted up to the media yesterday.
"There's really no words to explain the sickening feeling you have after a loss like that," said Langman.
Tutaia had one word for it - "gutwrenching". She might have gone on, but with tears springing to her eyes she cut her interview short.
Silver Ferns coach Ruth Aitken said she was extremely proud of the way her team handled themselves after such a devastating loss.
"A lot of strong women are born out of adversity and this group are amazingly strong women and I'm really proud of them. I said to them the lessons they take from the netball court actually transfer in to their lives - they will become better people because of this."
It's a hell of a tough way to learn, though, and it will take some time before the players will be able to see the bigger picture. For now they are left to contemplate the "if onlys" as those sickening replays continue on loop in their heads.
The obvious "if only" moment that most of the public have focused on is Tutaia's missed shot in the final 20 seconds of overtime. Nine months ago, in almost similar circumstances in almost the exact same spot in the shooting circle, Tutaia sank the shot to seal Commonwealth Games gold for her side and was hailed as a hero. On Sunday night she missed and has received a kicking for it since.
Aitken said it was "very unfair" that Tutaia had been made the fall-girl for the loss. There were lots of little moments - a poor pass, a held ball, a fumbled intercept - that could have turned the outcome, she said.
"We're a team and we live and die together. I think every player looked at something that they did themselves that could have made that one-goal difference."
Nor does Aitken agree that the Ferns "gifted" the win to Australia.
"No, no, no definitely not. No.
"A gift means that we didn't perform as we should and we gave our heart and soul. There were times when we could have taken the game, but we didn't. Unfortunately Australia were just better on the day."