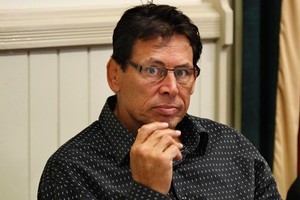 Rugby legend Buck Shelford has a new challenge on his hand - learning how to pronounce the names of players from 20 different countries taking part in this year's Rugby World Cup.
Shelford and 16 other Rugby World Cup commentators have been put through their paces by Maori Television, learning skills such as commentary philosophy, interpretations on the laws of the game and international pronunciation.
Shelford, who won a World Cup medal with the All Blacks in 1987, said he was looking forward to the Cup being played in New Zealand for the first time since then.
"We are all excited, it's just around the corner. It has been a long time coming."
At a workshop last week, commentators had to learn the pronunciation for every participating country.
Most struggled to master the Russian names, with names such as Igor Klyuchnikov and Vladimir Ostroushko being tongue- twisters.
"Most of us don't speak Russian," said Shelford.
"Some of the guys speak Japanese, I just know a bit of French and Italian because I lived there for a few years."
He was relying on the team lists to come out so he could practise at home. "It's always good to get the names right."
Shelford said he was obviously hoping for a New Zealand win, but "it comes down to the day itself".
"It's really hard to pick a team this time because there has been no test match rugby played in the Southern Hemisphere this year.
"After the Tri-Nations we'll get a better idea of how they're [All Blacks] going."
Shelford didn't think that the Springboks' decision to leave behind 21 players for the Tri-Nations would make much difference.
The South Africa team announced on Thursday that it was not bringing some senior players out for the Tri-Nations, so they could rest for the World Cup.
"It is different, but it has happened in other years, too," he said.
Maori Television chief executive Jim Mather said the Cup is a major opportunity and "we're taking that opportunity and running with it.
"It's all on for us in the lead-up to the tournament and the commentator workshop was just a taste of what's to come."
The 48 commentators will be split in two groups, half presenting in English on the Maori Television channel, the other half presenting on the Te Reo channel in Maori.
Other commentators include Wairangi Koopu and Willie Lose.
Shelford is also a regular on Maori Television's show Boil Up, on Thursday nights, which reviews the weekend's rugby and league.