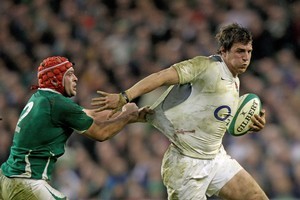 England loose forward Tom Wood believes the eight months he spent playing in North Otago set him on the path to the Rugby World Cup - and he hasn't ruled out returning to play in New Zealand.
Wood made his England debut in the Six Nations against Wales in February and quickly established himself as a first team regular.
His all-action style of play impressed many judges and, after winning a place in Martin Johnson's 45-man provisional World Cup squad, he is strongly tipped to be named in the final 30 announced next month.
Wood, 24, believes his stint in New Zealand in 2006 was crucial in accelerating his rugby education.
Playing for the Worcester academy in England at the time, Wood decided to follow the same route as Johnson - who played two seasons for King Country as well as appearing for New Zealand under-21s.
"My dad always used to say 'if you want to do the best in your studies, go to the best university in the world,' so it made sense for me to play in New Zealand to become the best rugby player," he told the Herald on Sunday.
"My time there was predominantly about becoming a better rugby player. It wasn't a jolly holiday."
Through a Kiwi family connection, Wood heard North Otago were seeking a young loose forward and he leapt at the chance to play in Oamaru.
The locals helped find him work - on a farm, as a builder and in a department store - and, as part of the deal, he was given the chance to play for Valley, the local club team. If he was good enough, he could then graduate to North Otago. Just two days after landing he was given a clear indication as to the quality of rugby in New Zealand.
"I arrived jet-lagged on the Thursday, went to training that night and was on the bench for the local club game on Saturday," Wood explained. "I saw one of the best tries I've ever seen and thought 'blimey I'm going to have to pull my finger out just to make the local club team'. It was a wake up call. This wasn't mess-around rugby."
Wood travelled extensively around the South Island, tried everything from a bungee jump to deep sea fishing, and found rugby was always the number one topic of conversation.
"Even at the local bar or grocery shop, everyone was asking about the upcoming game," recalls Wood who went on to play a dozen or so games for North Otago.
"Everyone knew who I was because I was the new guy in town and they took a real interest.
"Back in England, I live in a rugby town [Northampton] but I walk around unnoticed."
The realisation also dawned on Wood how fortunate he was to have a professional contract. He was bowled over by the passion and enthusiasm of his fellow squad members who worked all week but were desperate to play and train - an attitude which put some of his academy colleagues to shame.
"It was a brilliant experience to come to a place where the players weren't full-time and it was just a hobby.
"Even at academy level, you sometimes hear players getting a little ahead of themselves and moaning about how hard the training is when ultimately they are getting paid for their hobby."
Yet it wasn't just the amateur ethos which helped invigorate Wood during his time in New Zealand.
The more attack-orientated Kiwi game helped liberate the Englishman to take more risks and trust his instinctive skills.
"I'd become [in England] a very hardworking, rucking, tackling back row forward but a little one-dimensional," he admits. "I felt as a schoolboy I was a good runner and ball carrier - but that went out of my game. Playing as a youngster with the senior guys, it became more important not to make mistakes.
"The New Zealand experience gave me the opportunity and the freedom to have a go at things you wouldn't always try. In England, we were structuring every single phase which I don't think is practical.
"When I told the guys in New Zealand that's how I'd been coached, they didn't understand it. They'd play a strike move but then play whatever was on."
Wood has another reason to look back fondly on his time in Oamaru as that is where he met his partner, Sarah Armstrong. They have a two-year old son, Oliver.
Wood's strong Kiwi connection means the Northampton Saints favourite did not dismiss playing in New Zealand again.
"I'm happy where I'm at, but playing Super Rugby would be as big a challenge as anything else I've done in the past."