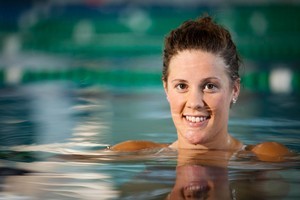 Cara Baker has swum the race many times over in her head already.
The 21-year-old Queensland-based Kiwi qualified for the worlds Open Water 10km Championship when she finished second at the Aussie event in March.
If she finishes in the top 10 next week in China she can pack her bags for the Olympics in London in 2012.
With such a long build up, and with so much on the line, it has been hard not to peak too early and to stay focused.
"I believe there is more pressure building up one to two months out more so than on race day," she said.
"When waiting for the starter in the water, knowing that I have done everything in the lead up to that race, I know that whatever the outcome, I have done the best that I can, physically and mentally.
"There is pressure to perform. I have had so many setbacks in the past so it's more pressure on myself to achieve my dream of going to the Olympics."
Swimming NZ Open Water Coach Phillip Rush believes she has the capability.
"Our goal is for Cara to be in the top 10 at Shanghai and become the first New Zealander to qualify for London," he said.
"Last year she was 17th at the Open Water worlds in the 10km which was just her fourth swim at this distance and first at this level.
"This time she is far more experienced and knows what to expect, especially the physical nature of these races. She is faster and under Dennis Cotterell we know she will have done the work."
That work in the highly competitive Australian environment has helped Baker's speed and endurance.
"I am training under one of the world's best distance coaches [Cotterell] and have a great group of swimmers that I train with. The majority of the squad is heading to worlds for pool and open water swimming so we are all preparing mentally and physically together.
"I definitely believe that to be the best you have to train with the best."
If she misses the top 10 Baker faces a second qualifying event in Spain next year along with New Zealand's best male swimmers.
But the focus is on Shanghai and Baker will have to adjust quickly to the foreign conditions.
"It will be salt water and very warm water temperature and outside temperature. Kane [Radford] and I will have a pre-race camp in Shanghai so we will be able to adapt to the climate."
Baker knows what is at stake and said a top 10 finish would mean everything to her.
"I have had so many setbacks in my career and to go from struggling to even swim after my operation, to living my dream, will prove to myself that nothing is impossible!"