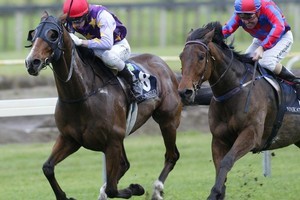 Te Awamutu looked likely to go ahead today, Awapuni was in doubt.
Torrential rain Thursday night put both venues in doubt, stunningly at one point leaving New Zealand without a Saturday galloping meeting.
Slightly improved weather yesterday morning resulted in Te Awamutu being given the go ahead to race by the Integrity Unit, but through most of yesterday Manawatu remained in doubt to race on its home track.
"We have made arrangements to race the eight flat races on the Foxton track," said Manawatu racing manager Brent Wall. "It won't be possible to race the two jumpers events, but the remainder of the programme will be staged if it comes to that."
Wall was hopeful yesterday it wouldn't come to that.
"Our track manager Chris Allen believes the conditions have improved late this afternoon.
"But the forecast is for rain tonight and all day tomorrow so if that arrived it would mean we would almost certainly be racing at Foxton."
Te Awamutu seemed to miss much of the horrendous rain that fell in the Waikato on Thursday night.
"There was no surface water from late morning," said CEO Blair Thomson.
Which brings everyone back to the barrier trials at Counties on Tuesday.
Countless such trial dates have been abandoned because trainers seemed reluctant to trial horses on the sand. If you were at Counties on Tuesday you have to say the meeting was an unqualified success, even if there was just 50 horses trialing.
The key to a sand track is its preparation and, yes, that has to be close to spot on.
The surface on Tuesday was fairly deep and testing, but that was because of the inaccuracy of the weather forecast. Sand tracks pack down and become firmer when it rains or water is applied.
The forecast was for rain overnight and the course manager did not apply water Monday night.
The rain did not arrive, leaving the surface deeper than perhaps desirable, but it was a good even surface.
The beauty of a sand track is that it provides that even surface. Trial or race a horse on a deep, uneven wet grass surface with potential holes in it and additional pressure is applied to tendons and joints. That is not the case with sand or artificial tracks.
If the Tuesday sand was testing, surely that's what barrier trials are for. If a horse is not ready for an extremely tough test, the rider needs only to adjust to that.
Cambridge trainer Frank Ritchie made a telling point.
"I had two fillies that both needed a spell, but I needed to find out if they had potential to know whether to go on with them and didn't want to prolong the owners' training fees."
One filly won, the other finished last. Story told.
* Just as well this is a terminating Pick6 at Te Awamutu, it just might be too difficult otherwise.
Leg 1
Montjee (No1) is almost an anchor. Up to better class than this and should be further improved by his third to Indikator in the Kiwifruit Cup. This is easier. Chickilicious (No6) looks the improver and the danger after her last-start third. Its A Message (No8) is underrated.
Leg 2
Tough race, plenty of chances. Ishigood (No5) failed last start, but you can probably forget that. Additionally Aimee Taylor takes 3kg off her back. Rusty Devil (No1) and Gomickey (No10) were beaten last start after impressive wins and should be forgiven those failures. Don't leave either out.
Leg 3
Tart'N' Tartan (No6) suffered under the improved track conditions at Ruakaka last week, but won't have the same problems this time. She looks smart and is well up to winning this race. Local Te Toro Lass (No9), El Gitano (No5) and Reposado (No1) are other chances.
Leg 4
Hurricane Mickey (No 2) is as close to an anchor as you can get. He loves the mud, got beaten last start, but was as good as the winner and looks home here. The wetter the better and he's going to get conditions to suit. If you want upsetters Sircross (No4) and John Gray (No6) are up there. Forget their last runs. Allende (No8) for a blowout.
Leg 5
You need plenty here. Arnold (No4) won last start like a horse about to go on with it and Letmebe (No8) is promising. Qualite (No13) is the value.
Leg 6
Another nightmare leg. Include Tonbridge (No7), Maharishi (No9), Colombian Beauty (No14) for real value, Gold Message (No4) and Zer Ebeny (No2).