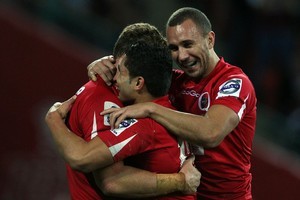 Before embarking on their history-making Super rugby season, the Queensland Reds watched video footage of the deadly floods which swamped their state and turned Suncorp Stadium into a lake when the Brisbane river burst its banks.
Like their adversaries from Christchurch in Saturday's Super 15 final, the Reds were motivated by the pain and suffering a natural disaster had inflicted on their people.
But for Ewen McKenzie's buoyant squad there is another section of their fan base that drives them to succeed where all other Queensland teams have failed since rugby turned professional in 1996 - a Reds' honour roll that never experienced the glory of Super 12 or 14 success.
Those are men who shed blood for the maroon jersey: centurions David Croft, John Roe, Elton Flatley, Toutai Kefu, Tim Horan, Jason Little, Chris Latham and Sean Hardman.
Even the great John Eales, twice a World Cup winner, was denied a Super rugby medallion or tankard.
The Reds made the inaugural Super 12 semifinals in 1996 and 1999 but both times were eliminated, by the Sharks and the Crusaders.
In 2001 they were stopped a game short of the final by the champion Brumbies - their last play-off before they beat the Blues last weekend.
Prop Greg Holmes debuted in 2005 and even re-signed during a dark age which included a final round 92-3 drubbing by the Bulls at Pretoria in 2007.
That humiliation still burns for the front rower and there is also a sense of unfinished business for the Queensland legends who spent most of their seasons playing for pride.
"Some of the guys I played with like Sean Hardman, John Roe and Chris Latham ... it will be as much about them as it will be about the current side," said Holmes.
"Those guys really laid the foundation a few years ago when it was really tough going.
"They're a big part of this now, though. They will be at the game if they are around and they deserve to enjoy this time as much as anyone."
* Crusaders players named in the All Blacks' Tri-Nations squad on Sunday can expect to be treated with kid gloves after an arduous Super 15 season.
All Black assistant coach Steve Hansen indicated they were willing to manage player workloads to get the best out of them. "A huge effort [has] gone into ... their crusade."
- NZPA