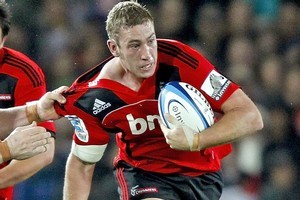 The Crusaders have arrived at their final destination, one flight from home, 80 minutes from Super rugby immortality.
Naturally they were not met with the same fervent welcome they received when touching down twice in Cape Town this season, they were barely acknowledged when making a disjointed arrival thanks to a disrupted journey from South Africa.
With their flight out of Johannesburg delayed they missed their connection to Sydney, meaning the first members of the squad filtered in three hours behind schedule - not that it bothered assistant coach Daryl Gibson.
"We're all feeling a lot better than when we arrived into Johannesburg a week ago. The travel no longer seems to be a burden. We've arrived here on good shape," he said.
The Crusaders, who reached Brisbane on three flights, have become accustomed to the vagaries of international air travel during their remarkable progression to a 10th Super rugby final - a scenic journey that has spanned more than 100,000km.
Lock Luke Romano was the only member of the squad not to arrive - he was quarantined by Qantas in Johannesburg after being diagnosed with chickenpox but is due to join the team tomorrow. He should be available for selection.
The Crusaders stretch their legs tomorrow, the first physical preparation for Saturday's showdown with the Queensland Reds at Suncorp Stadium.
A climax featuring the top and third-placed qualifier promises an enthralling conclusion to the inaugural Super 15, given the spectacle the two teams provided at Suncorp during the regular season.
The word "revenge" is not likely to be uttered publicly by a Crusaders player this week but a 17-16 defeat on May 29 after Richie McCaw conceded a controversial last-minute penalty will likely provide added motivation as they strive for a title dedicated to their earthquake-shattered home.
Gibson always suspected the Australian and New Zealand conference winners would meet again.
"We almost knew at the conclusion of that game we'd be back here for the final."
Gibson, the Crusaders backline coordinator, was looking forward to the challenge of combating Reds match-winners Will Genia and Quade Cooper.
Wallabies halfback Genia was a try-scorer when the team's last met while his mercurial sidekick Cooper was in fine form against the Blues last Saturday.
"When you've got playmakers like Genia and Cooper it really sets their backline away," Gibson said, acknowledging the duo's threat.
"They've been doing it all year. Not many teams have managed to come up with the answer against them."
Meanwhile, Gibson also credited the work of Queensland head coach Ewen McKenzie in guiding the Reds to their maiden final.
"You've just got to really admire what Ewen's done with his team. There doesn't seem to be a great deal of stars. They're a hard-working team and play to their pattern and defensive structures."
- NZPA