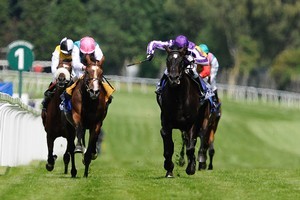 It was an appropriate call as So You Think beat Workforce up in yesterday morning's Eclipse Stakes in England: "The beast is back."
The English comments man with the transatlantic accent seemed as genuinely excited as we all were.
It would have been nice if we had been able to hear more of his comments and those of Aidan O'Brien and rider Seamie Heffernan and, most importantly, Workforce's rider Ryan Moore.
But it wasn't possible.
The feed the TAB received from English provider At The Races had one 600m replay, but no audio.
Anything the TAB could have shown would have been without audio.
TAB executives say we - Australia received the same coverage as New Zealand - are at the total discretion of At The Races.
Isn't this something that should be sorted in advance with At The Races?
Within 30 seconds of So You Think dashing past the winning post in front of the Derby and Arc winner Workforce, Trackside had to switch to the fascinating sight of 12 minutes of showing a graphic of the field and odds of Race 11 at the Carrington greyhounds from Perth.
A magnificent opportunity to soak up the drama of perhaps the most dramatic international race of the year was sadly missed.
For the record, Aidan O'Brien was delighted and why wouldn't he be?
After the shambles of seeing So You Think beaten in the Prince Of Wales Stakes, he was severely under the pump. And wasn't it marvellous that Ryan Moore, who had contributed to So You Think's defeat last start, was aboard Workforce.
O'Brien said: "I am delighted for the horse, it was lovely today. It was a straightforward race. With the pacemaker in, whose best form was over a mile and a half, it was a no-brainer so Seamus got him settled in and followed Ryan.
"The race started three down with the pacemaker on the outside and Confront was not going to stay there forever and Seamus was very cool on him. He just sat away and then angled him out and gave him a lovely ride.
"He is a horse that gets a mile and a quarter [2000m] but he has a miler's pace and when they settle with the speed he has the sky is the limit."
Heffernan, who was jockeyed off So You Think in favour of Ryan Moore after the Irish debut win, deserves a lot of credit for the victory.
The rider of the official pacemaker Confront sat outside his stablemate Workforce for a long way when Workforce went up on his inside at the 600m, meaning So You Think was going to have to go three wide if Heffernan decided to go early.
But Heffernan was not going to suckered into that and showed a lot more patience than Moore had in the Prince Of Wales stakes defeat.
Gradually, Confront started to drop away, but even then Heffernan sat in the slipstream on Workforce's tail for as long as possible before pulling out.
There was a huge battle when he did, one which Workforce for 150m looked as though he was going to win.
Workforce didn't weaken and So You Think deserves a lot of credit for having to go out and get him.
Seamie Heffernan was registering a second win from two rides on So You Think and a 13th group one win of his own said: "He is a very good horse and things went smoothly for him today.
"It was a nice pace and it was like a piece of work with a good horse [Workforce] leading him."
O'Brien has made no plans for So You Think, but nominated the horse for the Breeders Cup, in which his sire High Chaparral was twice successful.
The Irish trainer hasn't ruled out an attempt on a third consecutive Cox Plate in Melbourne.