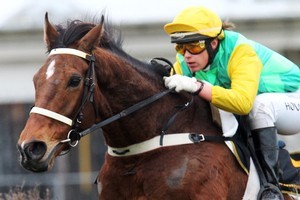 Trainers of top jumpers have to eventually worry about prohibitive weight levels.
Mark Weal isn't one of them.
He says Saturday's winner of the Hawkes Bay Steeplechase Climbing High is another.
"He's a weight carrier, he doesn't seem to worry about it. He's a real competitor, he just loves getting out there.
"It's like a top athlete, you can't just sit at home and feel sorry for yourself."
Which is why we'll see Climbing High tackle the next big jumping task, the Wellington Steeplechase.
"He'll be there provided the track conditions aren't too bad," said Mark Weal.
"I'm sure the better footing at Hastings is the reason he was able to win this one.
"He just didn't like that puggy Ellerslie ground when he was beaten last start in the McGregor Grant.
"Even as a hurdler he didn't appreciate the footing at Ellerslie."
Climbing High has been known to risk a fence or two and he looked vulnerable at a couple of obstacles on Saturday.
"Really, I think a lot of it is because he's such a long strider.
"The one he really could have had a problem with is the first of the stand double the second time around.
"I'm sure that's to do with his stride. The first time around he got the first of the double perfectly, but because of his stride it meant he copped the second of the double wrong.
"On the second lap, he got in close to the first of the double and that saw him meet the second of the double perfectly."
Climbing High is not a one-act pony - he has the ticker to match his dashing speed and jumping.
Even though beaten late in the McGregor Grant Steeples at Ellerslie he fought hard right to the finish.
On Saturday, talented Proposition loomed large on the home bend and looked a better than even money chance to run past Climbing High.
Even though Proposition will probably improve with that race - only his second jumping outing after a long break - Climbing High was impressive, easily holding him out.
Mark the Hawkes Bay Hurdles down to the Irish and make it in spades.
Richard Cully has made a big impression here in the 18 months since he met a girlfriend while in New Zealand on holiday.
Never more so than the picture-perfect exhibition he produced on Karlos in Saturday's hurdles. Cully put Karlos to sleep in the trail and covered not half a stride more than necessary.
Yet the ride that deserved success 99 times from 100 had to bow to visiting fellow countryman Stephen Gray on the Mark Oulaghan-trained Harvest The Gold.
Gray got so busy on Harvest The Gold approaching the last fence and after landing, the horse was never going to do anything but attack that line with an irresistible charge.
Karlos had the race in his keeping, but determination as an art form is difficult to repel and Gray won the day by throwing his mount over the line.
Karlos is a steeplechase racing over hurdles and doing a magnificent job, but wait until he gets to the bigger fences and longer distances.
Mount Sinai, only a nose back third, is now as fit as any hurdler racing.