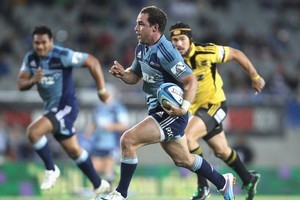 WILL GENIA v ALBY MATHEWSON
Will Genia (Reds)
Will Genia was chosen as the Reds player of the year after a succession of controlled and vital performances.
As if from nowhere, the Port Moresby-born halfback soared into every rugby watcher's consciousness.
He always looks to have time. Sometimes he seems to have the ball in his hands for an age before he decides on his plan but he is rarely caught or dies with the ball.
If he is nabbed he always seems to find a teammate or shrug off the tackler.
He can scoot too, using his speed and low centre of gravity to bend the defences near the tryline.
Genia is listed as 84kg in competition guides, but he plays with the explosive power that used to characterise the great Sid Going's game.
He is never far from a ruck, always issuing orders, his computer brain assessing the options and what plays to use.
Alby Mathewson (Blues)
Year one with the Blues in 2010 was a beaut for Alby Mathewson, whose performances earned him the player-of-the-year award.
The All Black selectors liked his work too and promoted him for his first test caps on the end-of-year tour.
The 25-year-old has exceptional speed and is good at exploiting mismatches against tight forwards.
He has only five tries this season, but Joe Rokocoko has only three, so Mathewson's haul is not so bad.
The shuffles before passing have become more prevalent (a few other New Zealand halfbacks have developed a similar frustrating habit).
His kicking from breakdowns and setpiece also needs a revamp in execution and timing. But if the feisty little bloke gets his skates on and whizzes out quick passes, he can be a lethal weapon.
JEAN DE VILLIERS v SONNY BILL WILLIAMS
Jean de Villiers (Stormers)
It might just be that this result is determined by the battle of the superboots (see B28), but more seductive is the battle one place out at second five-eighths.
Jean de Villiers is recognised as one of the premier organising backs in world rugby.
De Villiers won't often wow you, but he has the ability to read play a couple of phases ahead and create space for teammates accordingly.
If Sonny Bill Williams is bringing the style, then De Villiers is bringing the guile.
He's seen it all, getting the first of his 67 test caps in 1992 against France and playing in the 2007 World Cup-winning squad.
He later left for Munster, before returning last year when it became clear that he could be the hard, smart centre the Boks needed.
Sonny Bill Williams (Crusaders)
Sonny Bill Williams cannot claim the same international pedigree as Jean de Villiers, but his attacking skills are unique in the 15-man code.
Many players offload, but no one can do it under extreme pressure like SBW. He can be almost impossible to defend one on one.
While not blindingly quick, Williams is fast enough to run into space as well, so there are few foolproof ways of corralling him. When these sides met in May, Springbok coach Peter de Villiers predicted the SBW bubble would be burst by the physical midfielders Jean de Villiers and Jaque Fourie and Bok flanker Schalk Burger.
"See [whether] the boxer can box then, or the dancer can dance," the Springbok coach said. He could. Williams produced an assured display in the most impressive win of the Crusaders' excellent campaign.