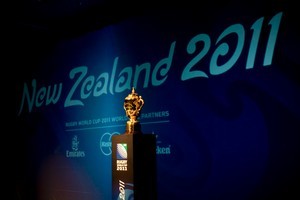 Martin Snedden, head of the host organisation for the Rugby World Cup, has been putting a hard question to audiences around the country.
He asks which is more important to them: the All Blacks winning the cup or visitors' experience of New Zealand? He asks with obvious trepidation, knowing how long rugby fans have waited for the trophy.
A Herald-DigiPoll survey has asked the same question. The result published today may surprise. Nearly 60 per cent say it is more important to them that visitors have a great time in New Zealand.
We are about to stage an event bigger than we have taken on before. We have the opportunity to make the experience thrilling and memorable not only for visitors but for ourselves. It is through the eyes of visitors sometimes that people appreciate who they are and what they have got.
If guests leave this country at the end of the World Cup with warm and lasting memories, New Zealanders will be left with more. The pleasure of hosting an event like this successfully would stay with us much longer than the thrill of winning a championship we should win.
The two aims are not mutually exclusive, of course. It is much to be hoped that visitors have a great time and the All Blacks win.
But as much as the prize has eluded us for 24 years, and pre-eminent as it is among modern rugby contests, triumph is transient. Next season a new team and new coach would have to satisfy our expectations again.
World Cups come around every four years, sole hosting rights have not come our way for 24 years and we might wait as long again. The country has invested too much in this event for its success to rest on a rugby match.
The All Blacks should win, just as they should have won previous World Cups, but rugby is a game of mysterious rules and variable refereeing, and knock-out tournaments can upset the form book in any sport.
There is not much supporters can do to guarantee the success of the All Blacks - that side of the festival can be confidently left to Graham Henry and the squad he will soon select - but there is a great deal they can do for the success of the World Cup.
They can, if they belong to rugby clubs, keep an eye out for visiting supporters. They can broaden their interest and watch teams that never otherwise get a chance to play in this company.
They can share the delight of those teams' supporters when they do better than expected, remembering what the efforts of the All Whites meant to New Zealand at another World Cup. They can simply be genial to everyone here.
Many of the 59.2 per cent who told DigiPoll the visitors' experience was more important to them might not be rugby fans.
The whole country is helping to pay for this event and it is important that it becomes larger than rugby, larger than sport. New Zealanders of all interests can take part in the cultural events and entertainment arranged around the games.
In less than 10 weeks now the country will be caught up in it. This poll says the great majority of us are coming to it in the right spirit.