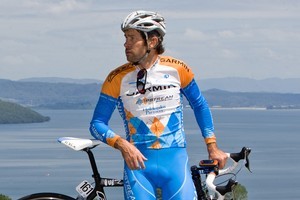 New Zealand cyclist Julian Dean is intent on doing what he does best for his Garmin-Cervelo team as he contemplates contesting what could be his last Tour de France.
Dean, who made his tour debut in 2004 with the now-defunct Credit Agricole team, and has carved out a reputation as one of the best lead-out riders in the business and maybe one more tour left in him is intent on delivering the goods once again in his seventh appearance.
He told NZPA from Nantes, France, where his team are concluding preparations for the tour which begins on Saturday, he had some jitters about getting a spot in his nine-man team.
"I have had an up and down season so I wasn't totally sure I would be here for the start.
"I have been more uptight than other years for sure.
"I wanted to make the tour, but didn't want to be here unless I was in really good condition.
"The tour is not something you want to go in to unless you are confident with how you are.
"But I am here now so I got to try and go for it."
Dean, 36, feels his experience tilted selection in his favour to line up alongside Americans Christian Vande Velde, David Zabriskie, Tom Danielson and Tyler Farrar, Canadian Ryder Hesjedal, Norwegian world road champion Thor Hushovd, Briton David Millar and Belgian Johan Vansummeren.
"Certainly, lots of past experience adds value to a rider and it is something you obviously need in a race such as the Tour de France where a cool, calm head is important."
Dean, though, won't be looking for a repeat of some bizarre experiences at the tour in the recent past.
In the 2009 tour he suffered an injury to a little finger when he and Spanish rider Oscar Freire were shot at with an air gun by someone in the crowd.
Last year, he was head-butted by Mark Renshaw in the finishing sprint to Stage 11 which led to the Australian's expulsion and then he was tackled off his bike by an over-zealous policemen while he was warming up for the 16th stage in the Pyrenees.
Despite the distractions, Dean collated his best ever tour performance, finishing second on stages four and 18 and then grabbed a third in stage 20.
"Last year, Farrar crashed out early so I had opportunities for myself and got some results in some of the stages there."
This time, he wants to put his head down and carry out his defined role in the team.
``My place in the team has been to come here and help other riders such as Hushovd and Farrar out for the sprints and sprint stages."
Dean said he was unsure how he would stand up to the toughest test in road racing given his preparations have been different from previous years.
"Normally I spend a month on my own training and doing specific workouts to prepare for the tour.
"This time I have been racing up until 10 days ago ... and though the form is good I have not prepared specifically at home as much as in the past.
"But there is more than one way to skin a cat and we will see if it is better or worse."
This year's 3430.5-kilometre tour will throw up 10 flatter stages along with nine mountain stages, an individual time-trial stage of 42.5km and a team time-trial stage of 23km.
Whether he could replicate or better last year's results was not something he was thinking about.
"The first objective is to fulfil my role as the lead-out guy for the other riders but one thing you learn over the years is that you never know what is going to happen in the Tour de France and like last year, if opportunities come my way, I am certainly going to want to jump on it.
"I am really excited to be in it once again because it will be one of my last if not the last Tour de France.
"It is still an objective to race next year, I want to race in the Olympics (in London) next year, and part of preparations will be, hopefully, riding the Tour de France next year."
Though the participation of defending champion Alberto Contador had cast a shadow over this year's tour Dean said he had the feeling most of the riders felt it was an odd case with the Spaniard because "it's part of a judicial process where there hasn't been a solution yet".
Contador, who tested positive for clenbuterol, claims that he ingested the banned substance while eating a contaminated steak brought to France from Spain.
His explanation was accepted by Spanish authorities, but not by the International Cycling Union (UCI) nor the World Anti-Doping Agency (WADA).
Both bodies have appealed the decision to clear the Spaniard to the Court of Arbitration for Sport (CAS), which will not make a final decision until August.
"Is he a cheat? No I don't think there is a feeling he is a cheat among the peloton," Dean said.
- NZPA