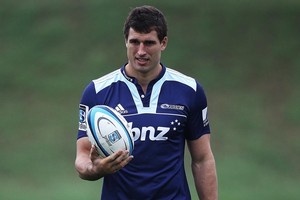 Blues lock Anthony Boric is stationary in his race to be fit for the World Cup, with the best prognosis that he will recover only a few weeks before the tournament.
Like others before him - Mike Brewer in 1991 and Ali Williams in 2003 - Boric faces the sporting trinity of wait, hope and see to decide his fate for the seventh global tournament.
His foot is in plaster at the start of a series of treatments the medics hope will have the lock ready for a return to rugby in mid-August. Earlier in the season, Boric strained a hamstring and then rolled his ankle before his injury in Saturday's Super 15 quarter-final victory against the Waratahs.
Fellow Blues teammate Tony Woodcock was due to resume treadmill work yesterday as part of a plan to get him playing in the ITM Cup after his troublesome foot injury, but he was suffering from the flu.
Team doctor Stephen Kara said Woodcock did not need surgery and once he resumed playing, if selected, he should be fine to get through the World Cup.
Woodcock's last match was April 22, when he was hurt against the Rebels at North Harbour Stadium. Boric's injury was like a mid-foot sprain with scans showing the soft tissue damage, while the x-rays looked normal.
"There is a lot of swelling in the foot and all the joints have been affected from the inside through to the outside of the foot. They are all quite swollen and tender," Kara said.
Boric would be in a cast for two weeks and then, provided he was free of pain, he would swap to a moonboot so he could begin walking and taking weight through his foot. If he was still comfortable through that recovery phase he would begin a walk-jog programme to complete a six-week rehab.
His participation in the World Cup would remain speculative until doctors assessed him at the end of each two-week recovery block. The World Cup squad is due to be named on 22 August.
Blues coach Pat Lam expects wing Lachie Munro to be fit for the semifinal against the Reds in Brisbane on Saturday. He bruised his ribs and liver in Friday's match, but is expected to train tomorrow alongside other recovering backs, Joe Rokocoko and Rene Ranger.
Boric's absence means utility forward Chris Lowrey will move into lock where he has filled in several times this season. That switch will increase the pack's mobility but put more pressure on lineout targets Ali Williams and Jerome Kaino.
The Braid brothers, Luke and the recovered Daniel, will fight out the openside flanker selection, with Luke's consistency making it awkward for his elder brother to regain his place.
The Blues foray to Suncorp Stadium a month ago was a useful rehearsal for this match, as many of the players and coaching staff had not previously seen the ground. They did not want to repeat the limp start and points' concession they made in that match.
"We will be motivated by the way we played for 30 minutes in the middle of the match and just came up short," Lam said. "The Reds did not play all the rugby that day, we just want to make sure we do most of it this time."
Lam felt the Blues had not got enough credit for some of their work this year - like most teams they had strong patches and others where they were on the backfoot.
"It is about a contest and when you have that, there is a flow and ebb and you just have to make sure when the other team has the ball that we defend better than we have and that mentally we are there," he said.
The ground was likely to be hard and the weather fine, Lam said, but the Blues had to be more accurate than their last visit when they presumed they would adjust to those conditions and lost 37-31 after a bold comeback.