A simple construction out of pipe and netting can create hours of fun for the active family. By Greig Morgan.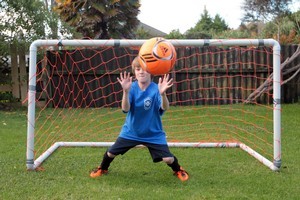 Both of our children play football at Oratia United. My daughter Eden, 11, is in an all girls team, and she really enjoys it, but for her it's more of a social event with teammates - they spend half their time at training organising times to meet up at the mall.
It's totally different with my boy Jamie, 8. He plays for a top team, and trains four nights a week plus has a game on Saturday. He just loves the sport and can't get enough of it. Any bit of spare time he has (after homework) he's outside in the backyard having a kick around or practicing his dribbling skills.
The other day Eden and Jamie asked if I could make some soccer goals for the garden. I thought it was a great idea, so together we drew up a plan with measurements for the sort of goal they wanted. It was an easy project for us to make, and it gives us another way to spend time together, practicing our dribbling, goal scoring and saving, though I have to remind them the aim is to get the ball in the net, not into each other.
Step 1
Using a fine tooth saw cut two lengths of PVC pipe at 2 metres each. Then cut four lengths of pipe at 1 metre each.
Step 2
Thread a 2 metre length of pipe through a length of goal netting, connect an elbow either side of the pipe, then thread two 1 metre lengths of pipe through the sides of the net and connect to the 2 metre length. This will give you the bottom of the goal.
Step 3
At the opposite ends of the 1 metre lengths, connect two more elbow pieces face up. Weave two more 1m lengths of pipe through the vertical sides of the net, then use the remaining two elbow joints to join them to the top 2m length.
Step 4
For extra stength, wrap duct tape around the elbow joints and between the net and top length of PVC.
Materials
8 metres of 50mm PVC
waste pipe
6 waste bends (elbow shaped) 50mm x 88 degree
1 roll duct tape
3 x 2 metres goal netting
Tools
Hacksaw/handsaw with fine teeth
Scissors
* Greig Morgan is a cabinetmaker by trade, who now runs his own landscaping business GT Landscapes.