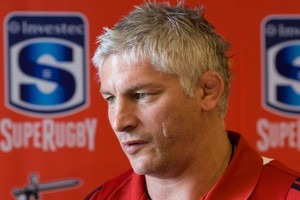 In a season of outrageous misfortune, the Crusaders immediately latched on to the view they have nothing to fear in Cape Town.
The travel and all the associated effects were dismissed by captain Kieran Read, along with the assessment that they will arrive in Africa with so much already weighing against them.
This is a team with mental resolve that has so far showed unfathomable depths. Planes are a way of life for them and so are earthquakes. The Stormers produce few tremors by comparison with the subterranean storm that has disfigured the Crusaders' home base.
"We were under no illusions; if we won, then we were going to be travelling," said captain Kieran Read. "It's definitely going to be a massive challenge. A lot harder than what we faced earlier in the year. It is hard to play in a final away from home but we are confident that we can do it."
What is helping their confidence is the way they responded to the problems the Sharks were causing them at the breakdown in the first half.
They were being beaten up for much of the first half hour and counter-rucked off too much ball.
Halftime brought a chance to regroup and for coach Todd Blackadder to advise his players to lower their body positions going into contact.
"We took a little time to adjust," said Blackadder. "We were far too high at the breakdown and we were being out-muscled. When we did get the ball, we were too flat. It was the worst half of rugby this season but I'm really pleased with what we did in the second half."
But beating the Sharks took little out of the tank and Blackadder knows he has men who are fiercely determined and as fresh as can be wished for at this point of the season.
The final bonus will be the return of Richie McCaw. The All Black skipper is finally available for selection.
"We are definitely hopeful he'll [McCaw] be available," said Read. "He adds an immense amount of experience."