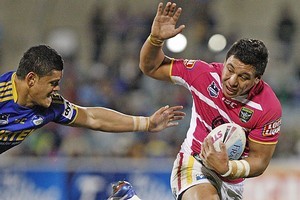 Raiders 25 Eels 12
Not even Jarryd Hayne's undisputed class could save this one for the Eels.
Canberra, after a horror start to the season, are somehow not that far off the top eight, even though they started this match in 15th place on the table - just six points off the Warriors in eighth and the Tigers in seventh.
Two points were retrieved last night after a determined forward effort and individual, defender-beating tries to both halves, Sam Williams and Josh McCrone in the first half against an Eels side pinned in their own territory.
Hayne somehow pulled off a try-saving, ball-spilling tackle as Joel Thompson dived for an early try - and he made several interventions in defence. Most of the attacking came from Canberra last night.
Williams and McCrone ran, passed and directed play better than their Parramatta opposites, Jeff Robson and Casey McGuire, and the Eels often looked a team without much penetration as a result.
Down 14-0 at halftime, it was difficult to see how the Eels could wriggle out of this one. Hayne's probing brought a penalty and then a try to hooker Matt Keating - but it was a false dawn. McCrone's running sprung another leak in the Eels' slow defence and fullback Nathan Massey had the try.
The determined Eels struck back with a try to Ben Smith but they never looked like snatching the game. McCrone sealed it with a field goal before a runaway try to Williams.
Raiders 25 (S. Williams 2, J. McCrone, N. Massey tries; J. Croker 3 goals, McCrone field goal), Eels 12 (M. Keating, B. Smith tries; L. Burt 2 goals). Halftime: 14-0.