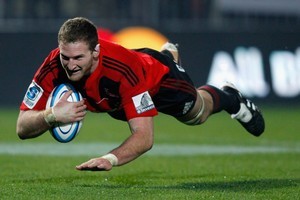 Crusaders 36 Sharks 8
If there was a surprise to come out of last night, it was the length of time it took the Crusaders to rid themselves of a troublesome case of mediocrity.
The result was always seen as inevitable. The Sharks had been through hell just to get to Nelson and all that on the back of a huge emotional and physical investment to beat the Bulls and earn the right to tangle with the ash cloud.
There was always a fair chance they would die on their feet by the final quarter, possibly earlier if the Crusaders could inject some flow and tempo.
That was the strange thing - the Crusaders were tentative and error-ridden until Kieran Read was sent a telegram inviting him to intercept an ill-judged long defensive pass by Patrick Lambie.
The skipper could hardly believe his luck. He knew that, with the Crusaders leading 23-8 with 30 minutes remaining, the Sharks were never going to find their way back.
A wave of relief flooded the Crusaders at that point. There was the knowledge that they had the victory and also a chance to use the final quarter to run some confidence into the system.
Form and momentum are the keys at this stage of the season and the Crusaders could see the value that could be gained by chopping the Sharks into small pieces.
They had to temper that against the need to keep something back. Flights to South Africa are punishing and already tired limbs tend to find no relief when exposed to altitude and pressurised cabins.
But the Crusaders never quite managed to cut loose the way they hoped. The Sharks, obviously tired and aware they were gone, still managed to defend with a passion.
The mistakes eased. They didn't stop and the game meandered to an unfulfilling conclusion. It was like watching a fat man on a moon-hopper - there was no dramatic pop, just a slow release of air that took an age to show up as damage.
The Sharks also looked more threatening when Patrick Lambie shifted to No10 and Freddie Michalak was removed. The Frenchman was tidy but tentative and his refusal to attack the line left his side without much hope of amassing points.
It was actually Michalak's decision to stop and pass instead of drive into the rushing defence that put Lambie under pressure - so much so that it led to Read's intercept.
That the Crusaders were never particularly convincing will trouble them more than they might let on. Of course it was a night for saying it was all about the win, but a performance would have been welcome, too.
They needed to exorcise the demons that plagued them in an opening 40 minutes that was strangely fractious - no flow, no rhythm and not much rugby from either side. The Sharks had fatigue to deal with; the Crusaders, without such an obvious excuse, can probably admit to nerves.
They played as if they had gate-crashed the playoffs in mufti only to discover it was black tie. It took all of half an hour for them to even settle into something remotely resembling their true selves and it was Sonny Bill Williams who provided the spark.
He'd shown an urgency and drive on his brief involvement prior to erupting through the Sharks midfield after a strong break by Read. His reverse pass to Robbie Fruean should have led to a try but Stefan Terblanche used all his experience to panic the Crusaders centre into passing early and poorly.
A big hit from Williams built the team's confidence further and then he managed to milk a penalty when he went all dying swan after a fair collision with JP Pietersen. His giant smile after Daniel Carter had landed the three points said it all - there is guile and rugby smarts packed into Williams' unfeasibly buff frame.
His offloading was never really a feature although his direct approach was noted. The All Black selectors have been on at him to back himself more and challenge defenders. If he can repeat that in Cape Town and add in the sparkling passes out of nowhere, then maybe the Crusaders will raise to another level.
They will need to. Next week they will be the ones feeling the effects of travel. Next week the odds will be stacked against them and it will take something special for them to triumph.
Crusaders 36 (S. Williams, K. Read, B. Franks tries; D. Carter 2 cons, 5 pens; M. Berquist con), Sharks 8 (W. Alberts tries; P. Lambie pens). Halftime: 13-8.