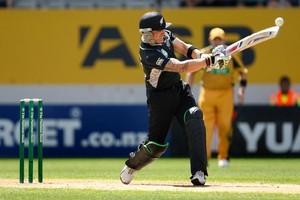 It was never intended Brendon McCullum would lead the New Zealand cricket team, even when he was ushered into the vice-captaincy under Daniel Vettori and coach John Bracewell in late 2007.
McCullum was made deputy so he could, as a senior player, offer support to Vettori as a new captain. Bracewell apparently liked McCullum's willingness to get stuck in but cricket sources have told the Herald on Sunday that, while the player and the public presumed he was next in line, it was never seriously considered.
"McCullum is a gambler and you need his whole seat-of-pants, take-no-prisoners attitude every now and then," said one New Zealand Cricket insider. "However, Taylor is more measured and quite tactically astute, even if it is a bit early for him - he can still be a bit reckless with the bat on occasion."
This week has been a case of deja vu for McCullum. He has fallen short of earning the nod to lead his country and looks destined to take on the vice-captaincy again if a leadership group is rejected as the preferred option.
A number of factors stretching back to the end of 2009 ensured McCullum would not get his chance to lead.
The 29-year-old admitted in his book Inside Twenty20, published last year, that he was disappointed to be shifted out of management meetings and restricted in his influence over game plans, team culture and training on the tour to Sri Lanka in August 2009 while still vice-captain.
"I handled it all wrong," McCullum said in his book. "I can see that now, but with nobody willing to discuss the situation with me I got a bit grumpy, I would not have been the easiest person to be with. I was like: at least have the nuts to talk to me about it. I'd have a lot more respect for you if you confronted me."
He was demoted from the vice-captaincy in October 2009. Poor form in Sri Lanka did not help, nor did a perception McCullum had influence over the team and enjoyed a beer.
He is a freakish athlete who could handle a hearty social life but remain at the top of his game - but others couldn't. However, there was never any suggestion of a "drinking culture", as was raised last week.
It did not help that, at the same time coach Andy Moles was ousted, McCullum - by virtue of coincidence - was wrongly singled out as the perpetrator. The selectors then wanted more input from Taylor, earmarked as a potential leader since his days as national under-19 captain. The vice-captaincy was a logical position to help him develop.
Former test captain Dion Nash was a selector at the time McCullum was demoted. He says some players are leaders but are more suited to support roles.
"Brendon is more in the vein of Chris Cairns - who had huge leadership ability and could read the game as well as anyone, Stephen Fleming included. Stephen was captain but Chris was the emotional heart of the side. But, like Brendon, he was probably too involved in all aspects of the game. His emotions could lift the side but also overwhelm him on occasion.
"I know on any given day it's the star players who are most important and Brendon can contribute more that way, leading by example. Otherwise players like that can be a destructive force, with no place in team sport."
Craig Cumming, McCullum's captain at Otago, says the wicketkeeper-batsman will not disappoint: "Brendon is a people person who puts his team-mates first. He would have been a great captain, someone prepared to fail so his team could win. He's had his day of grieving and will now offer his full support. He still has plenty to prove as a cricketer."
Nash also believes McCullum and Taylor can work together, beyond the post-announcement platitudes.
"I want to be clear I'm not having a crack at Brendon - I'm a big fan. But the problem is you've got an 'oil and water' scenario if he doesn't get behind Ross. The reality is he needs to follow up his words of support with actions. Once Brendon accepts he's not captain, he can play a massive part in the team.
"My fear is we've had such a head-to-head battle that strong management needs to be put in place to prevent any undermining. Ross will make mistakes, he will foul things up, he'll muff press conferences - that is a rite of passage for a young guy getting it right. No one walks into it and nails it from day one, plus he's got the responsibility of scoring the most runs as New Zealand's best batsman.
"People often forget Stephen Fleming had the job for over 10 years and the first few were pretty mediocre; he was lucky to hold onto it.
"If we had been a group of players fighting to get that job then he wouldn't have had the chance to learn and turn into a fantastic captain. It took him time to get there. We now need to give Ross that opportunity."