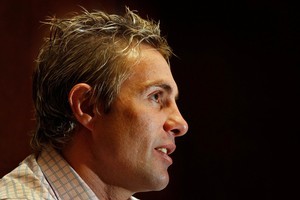 Say goodbye to TJ, Nisbo, JP, Sumo, Foxy, Marshy, Smithy, Coops and Kamo.
Step up Tony Johnson, Grant Nisbett, Jon Preston, Scotty Stevenson, Grant Fox, Justin Marshall, Ian Smith, Matthew Cooper and Ian Jones.
Sky TV bosses and the International Rugby Board have asked Sky's commentators and pundits not to use one another's nicknames during this year's World Cup tournament.
As host broadcaster for the September 9-October 23 event, Sky's cover of all 48 games will be beamed via local rights holders into homes, pubs and clubs around the globe.
In several cases networks will have their own commentary teams, but the Sky commentary is available to all rights holders.
A source told the Herald the IRB was concerned the commentators' habit of using nicknames would confuse an international audience unfamiliar with the personalities behind the microphone.
"It's not Sky's product as such, it's the IRB's, and it's not as if we've been locked up in handcuffs," the source said.
Sky's matey approach to broadcasting - especially that of Murray Mexted (Mex), who is back in from the cold as part of a wider commentary team for the tournament - does polarise opinion, so this news will come as a relief to those who prefer their rugby straight.
The World Cup is an opportunity for Sky to show its broadcasting prowess to the world.
It will have live satellite coverage of all 48 matches.
Maori TV will cover 16 games live and be the lead free-to-air broadcaster, working in partnership with TVNZ and TV3.
The IRB loves to talk of the more than four billion viewers who tuned into the 2007 Cup tournament, in France.
But as the world's population is hovering just below 6.8 billion and great chunks of the globe are unmoved by rugby's subtle charms, the vast majority of those four billion would have to be repeat viewers.