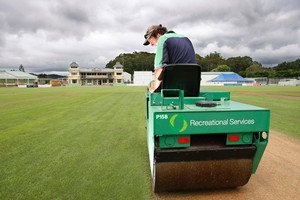 Northland Cricket's ambition to become New Zealand's eighth test venue moved a large step closer to reality this week.
Confirmation that Cobham Oval in Whangarei received the pass mark from International Cricket Council match referee Alan Hurst in June was swiftly followed by the announcement that it will host one of three ODIs against Zimbabwe in February.
The oval is picturesque with a large grass bank at one end, improved practice facilities and impressive dressing rooms for the players.
"I'm absolutely chuffed," said Northland chief executive Gary Bell. "The ground was first played on in 2004, the pavilion opened in 2006 and since then we've striven really hard to get where we are today."
It has been a busy venue for Northern Districts in the last two seasons. In that time, Cobham Oval has hosted six out of 10 home Plunket Shield games for ND and six of eight national one-day competition games.
"We've had a very heavy domestic schedule and that's come through with flying colours," Bell said.
Now his dream is for Northland Cricket to host a test.
"That's the purest form of the game so it would be jam on top of the cake for us."
The more notable points of the schedule for visits by Zimbabwe and South Africa include Dunedin's University Oval hosting a South African test in early March; it is reward for significant improvements to the ground, including enlarging the outfield.
Zimbabwe play one test, three ODIs and two T20s from late January until mid-February.
South Africa are down for three games in each discipline, running from February 17 to March 27.
Eden Park will host two T20s - one against each visitor - and an ODI against South Africa.
The four tests are split around what have become the standard four venues for the five-day game - Napier's McLean Park, Seddon Park in Hamilton, University Oval and Wellington's Basin Reserve.

Schedule for 2012
NZ's home international season
v Zimbabwe
* Jan 26-30: Only test, Napier
* Feb 3: First ODI, Dunedin
* Feb 6: Second ODI, Whangarei
* Feb 9: Third ODI, Napier
* Feb 12: First T20, Eden Park
* Feb 14: Second T20, Hamilton
v South Africa
* Feb 17: First T20, Wellington
* Feb 19: Second T20, Hamilton
* Feb 22: Third T20, Eden Park
* Feb 25: First ODI, Wellington
* Feb 29: Second ODI, Napier
* March 3: Third ODI, Eden Park
* March 7-11: First test, Dunedin
* March 15-19: Second test, Hamilton
* March 23-27: Third test, Wellington.