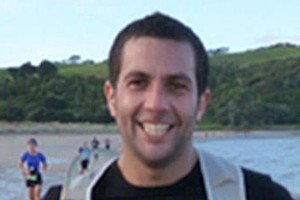 Last year under the guise of Many Miles for Mary four guys ran from Auckland to Wellington (780km) in six days. They used the Tough Guy Challenge as part of their preparation. This year, Jamie Milne heads a different team - Alisdair Eddie, Andrew "Flea" Koolen and Shortland Street star Ido Drent - in the event as preparation for another mission.
They plan to run the circumference of Tasmania (1100km in nine days) in August.
How does the Tough Guy Challenge help long distance running?
JM: I believe the uncomfortable nature of the environment serves us well for our mental preparation. The 12km Tough Guy event doesn't squeeze us much athletically but if you can handle the swamps, mud and human carnage I think this holds our minds in good stead for Tassie.
What appeals about this event and the run in Tasmania?
ID: The opportunity to put the mind and body to the test, while competing with friends. It's going to be great to put myself out of my comfort zone, both physically and mentally, and see how I cope.
I always enjoy seeing how far I can go.
What is Many Miles for Mary all about?
JM: It is a group of volunteers bound by a desire to help worthy charities. We do this once a year athletically to create awareness and funds by means of our crazy actions. In the previous two years we've run from Cairns to Townsville 360km in two days, Auckland to Wellington 780km in six days, and this year we tackle the island of Tasmania's circumference 1100km in nine days [for Ronald McDonald House].
Have you done anything like the Tough Guy before?
ID: The 20km cross country run we did as part of the Xterra series included a little bit of mud and water but it was in no way quite as extreme. This is going to be pretty intense.
JM: Before the Tough Guy Challenge last year I had gone through the Navy mud run at Ngatiranga Bay in Devonport a few times. Thankfully at least in the Tough Guy and Gal Challenge you don't have someone yelling at you to move your arse.
What training have you done to be ready?
ID: At the moment, I'm busy preparing for the Many Miles for Mary charity run so I've been training six to seven times a week. The MMFM team is going to head down there and use the challenge as a "hardcore" training session.
Jamie, how have the boys taken to the CrossFit training - Ido is known for being a pretty boy actor how has he taken to the training?
JM: The team love it. Initially I thought it might be similar to fitting a square into a circle but the crew have adapted extremely well. We are in week seven of a strict conditioning programme likened to that of a high performance athlete. These guys love to work and they hit the physical adversity that CrossFit brings head on with no backwards steps. Yes, Ido is pretty and I myself have offered my phone number for coffee and cake purposes so I can understand the female 18 to 35-year-olds' infatuation.
However, the same as the team Ido presents as an amazing athlete that has impressed me immensely. He is what we call in the trade a quintessential athlete, strong, fast, balanced and well-rounded.
Are you happy with how you are tracking for the Tasmania run?
JM: Extremely, we will go into this charitable event, passionate, driven and prepared. We have put together an efficient and effective team of volunteers who I am confident will come back to NZ with the 10 grand purse for Ronald McDonald house and an injury-free group.
Support the team and Ronald McDonald house:
manymilesformary.co.nz