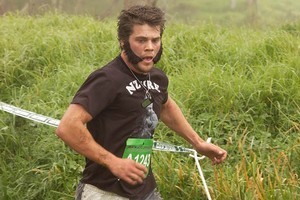 Dressed as Wolverine, Joshua Harrison crossed the finish line covered in mud and exhausted as the 2010 champion of the Auckland Tough Guy Challenge. The 28-year-old fireman experienced a full range of emotions while claiming his maiden title.
"First it was relief that I wasn't caught," said Harrison. "Then it was just so much happiness with a little pride." Harrison, who competes in triathlon events "which is ideal as the strength from cycling helps with the mud and hills", is back to defend his title next weekend in West Auckland.
The Tough Guy and Gal Challenge, which began in Rotorua in 2003, has grown to five events at three different venues nationally with 7500 competitors in 2010.
This year, the organisers are aiming for 8500 competitors over the five events and Harrison says the good-spirited competitors make the Tough Guy and Gal Challenge the most enjoyable race he competes in.
He feels no extra pressure for the defence of his 12km title, saying the challenge is fun and demanding physically.
"You're running up hills with shoes filled with water, covered in mud and your legs get heavy," said Harrison whose involvement began when his workmates entered a team in the Services Challenge.
"I've also done a huge block of stair climbing recently for the Sky Tower Fire Fighter challenge. This will make me much quicker this year."
The challenge is a one of a kind event as it is not just a 6km or 12km fun run. It also involves running, walking, crawling and sliding around an obstacle course.
Challenge administration manager Charlotte Pearson said: "Be prepared to get wet and dirty because there is no way around the mud."
The event offers 6km (one lap) for the social competitor looking for a laugh and 12km (two laps) for people looking for a challenge.
The course includes water trails, barbed-wire obstacles, swamp crossings, bush trail, equestrian obstacles, open paddock running, hill climbs, a sand crawl and lots of mud. And it creates an atmosphere that is something athletes need to experience for themselves.
"It is great to watch people of all abilities coming across the finish line, unrecognisable but with huge smiles on their faces," said Pearson.
In the past nine years, the challenge has become the flagship event for Event Promotions. Back in 2003, it began in Rotorua with 432 competitors, founded by Murray Fleming who had a background in athletics and adventure sports.
"I wanted to give the public an opportunity to take place in an activity that was a combination of these with an edge - mud," said Fleming.
"The event needed to be unique, taking many competitors out of their personal comfort zone. The emphasis was and is for all to have an amazing experience.
"The event doubled in size for the first few years and, once word of mouth got out, the response was huge."
In 2009, race director Fleming expanded to Auckland. In 2010, two Auckland events were held and the event expanded to Palmerston North.
"People from all over still travel to Rotorua to experience the 'Original' Tough Guy and Gal Challenge at Lakes Ranch."
Harrison offers some advice for athletes taking on the challenge for the first time.
"Wear fancy dress. I did Wolverine last year. Tape your shoes on, go easy on the hills and sprint the downhill legs."
Pearson says if you can run, walk or crawl 6km, then you can take on the challenge. "Prepare to step out of your comfort zone. We recommend doing your training runs off-road - at parks, on trails or soft ground. Come with an open mind and don't be afraid to get dirty."
Where and when:
Auckland: Woodhill Sands Events Centre, July 2-3.
Palmerston North: Linton Military Camp, July 16.
Rotorua: Lakes Ranch, August 6 and 13
The challenge
Open to male and female competitors 13 years and older, the event offers a 6km (one lap) and a 12km (two laps).
The course includes swamp crossings, a spiders web net climb, crawl under barb wire, native bush trails, a range of natural and man-made obstacles, and mud.
The Auckland 2010 champions for the 12km are:
* Josh Harrison 53:56
* Susan Fleming 1:04:14
For the 6km:
* Dave Shaw 29:54
* Jane Wheater 37:09
Coming up
Today
Multisport & Dualthlon
Whakatane Great Outdoors Monty's Revenge Hills of Whakatane. A 12km scenic coastal run, 25km hilly mountain bike, 20km grade 1 paddle on the Whakatane River, also Duathlon option.
Tomorrow
Duathlon
Rats Winter Duathlon Series race 1, Rotorua off Road duathlon, long course, short course and children's courses available.
July 2
Multisport
Tough Guy & Gal Challenge Fact Auckland - Woodhill Sands Events Centre.
Mountain Biking
AJ Hackett Bungy New Zealand Cyclocross Championship and Mountain Bike Race.
Kayaking
Northern Regional Marathon Champs, Te Atatu, Auckland.
July 3
Multisport
Tough Guy & Gal Challenge Auckland - Woodhill Sands Events Centre.
Tuatara Tours Brass Monkey Series Race Two, Lower Waimakariri River.
Running & Tramping
Hidden Trails Half Marathon, Kawerau.
XTERRA Auckland trail run series event 3, Waiuku, Auckland.