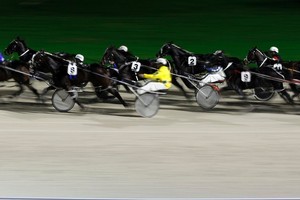 Leo Molloy If McKay continues his winter resurgence at Alexandra Park tonight punters will have the most unlikely of trainers to thank.
The unsound pacer deserves to start favourite in the New Zealand Herald Mobile tonight after a brave third off a 30m handicap in last Friday's Winter Cup.
His form all winter has been superb and he would only need to race up to it again tonight to be a Pick6 anchor for many.
And McKay has a secret weapon on his side because while he is officially trained by Robert Dunn, he has spent much of the past month in the care of South Auckland galloping trainer Leo Molloy, in an arrangement cleared with the Racing Integrity Unit.
Molloy is a former jockey, qualified veterinarian, owner and one-time Trackside tipster who has established a fine strike rate as a thoroughbred trainer in the past year.
But he is also one of the owners of racing's most popular internet forum, Racecafe, on which he rarely misses a chance to poke fun at, or point out weaknesses in, the harness racing industry.
So has helping to train a talented harness horse increased the outspoken Molloy's respect for the harness racing community?
"I think people realise a lot of the stuff, not all of it, I post on Racecafe is written satirically," he told the Herald. "There are some things I think are wrong with harness racing, mainly surrounding the use of pokie machine funds, but there are also plenty of things wrong with the thoroughbred industry.
"I think harness racing is more advanced than thoroughbreds in some areas, particularly with the Kids Kartz and the way children are involved in the industry.
"I could even see a time when I switched my allegiances to do a lot more harness training.
"After all, there are good and not so good people in both codes. But I have some good friends in harness racing and Robert [Dunn] is one of those.
"He is a very talented horseman so our job with this horse has been made easier."
McKay has leg problems which mean he divides his time between treadmill and aqua training with Molloy.
"The harness horses are obviously quieter to work with but the physiology is the same so it is not greatly different from training a thoroughbred."
Part of that training includes analysing an enormous amount of data and Molloy says McKay is an unusual case.
"Last week a lot of the data we got off him early in the week wasn't good but he turned it around very quickly and he went a great race last Friday.
"It has been the same to start this week but I can see him getting better as the week goes on."
A thriving McKay's greatest danger would probably be Stormy Sirocco, although Roseraire also drops back from last Friday's Winter Cup and, like McKay, has been in wonderful form in the claimers.
Earlier in the night the two-horse non-tote heat of the Australasian Breeders Crown brings together Flying Isa and You Rock with a rare fixed-odds betting market for a non-tote race.
Flying Isa opened at $1.30 yesterday and after winning every major 2-year-old trot this season should triumph again because if You Rock can beat him at just his second start he is something very special.