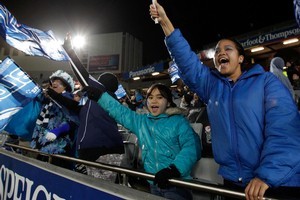 Stormy weather and low ticket sales will not deter the Blues' biggest fans from heading out to watch their game tonight.
Only 13,000 tickets had been sold by last night to the first Blues home playoff since 2003 at Eden Park, which has a capacity of 50,000.
Blues marketing manager Grant McKenzie said the ticket sales were quite disappointing but he was expecting a turnout of 18,000 to 20,000.
"We're really hoping for a lot of walk-up sales to get to those numbers."
Livescoring: Blues v Waratahs from 7.35pm
MetService duty forecaster Derek Holland said it was going to be a wet game with a band of rain moving over the stadium shortly before the 7.35pm kickoff.
"It will still be showery and one or two of the showers will be heavy, unfortunately. So it's going to be quite wet."
Mr McKenzie predicted the rain might put off some Blues fans from heading to the match, but it could be an advantage to the team.
"We play much better in the rain, so that might be a good thing. If it rains, it will be a good game."
The dreary weather won't stop diehard Blues fan Courtney Anderson from getting to Eden Park tonight with her two friends and her mother, whom she is "dragging along".
"I got my tickets as soon as I could, I've got season tickets. I'm a huge fan, " she said.
Ms Anderson, 24, will be wearing her Blues jersey and will wave her Blues flags from her front-row seats. "I'm getting really, really excited."
Kaydee Carr, from Whangarei, won't be at Eden Park but will be watching her favourite team in her Blues jersey live on Sky.
"I'm stoked for the Blues getting a home playoff."
Ms Carr said Aucklanders should support the team and go to their game, even if they don't like rugby.
"The more support, the better they will play."