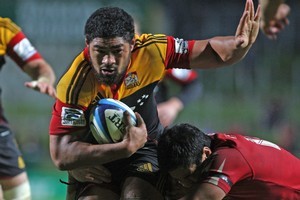 The Chiefs' season ended with a typically hollow thud in Hamilton.
Nobody listens to their injury-crisis excuses any more. So having stuffed up again, this time against the Reds, they wheeled out a new line. The emotion of the occasion had got to a team apparently overwhelmed because the coach and a couple of jokers were leaving. Veteran All Black fullback Mils Muliaina, of all people, reckoned, "It was pretty emotional - that caught some of us off guard."
Give us a break.
The Chiefs play as if they've only just met rather than a team that should get teary eyed over departing comrades.
It was all red at Waikato Stadium, as in the Reds and a lot of empty red seats. The Chiefs got beaten again because they are hopeless. They are poorly coached, selected and organised.
Yet every year they come up with same-sounding drivel. Hardly anyone turned up on an occasion so emotional that the team couldn't function properly - maybe the Chiefs and their fans live in parallel worlds.
In contrast, the Reds quickly turned fortunes around under Ewen McKenzie, defying all predictions by finishing top of the Super rugby table. The Reds would kill for the talent available to the Chiefs out of Waikato, Bay of Plenty and Counties-Manukau.
The Queenslanders are a breath of fresh air and deserve recognition for confirming their top seeding in Hamilton.
The Chiefs have allowed the New Zealand Rugby Union to use them as a holding pen for coach Ian Foster, when he should have been sacked a couple of seasons ago. The Chiefs got what they deserved because they have not acted in a hard-bitten, desperate and professional manner. Treat the fans like fools and you get empty stadiums.
Now there are drum beats that Foster is in the frame for the All Black coaching panel.
The fact that Foster is publicly putting his hand up is enough to know that he has got some sort of nod from on high because that is how New Zealand rugby works. It's an inside job.
Ian Foster for the All Blacks - that is something to get emotional about.
* Time to salute the Crusaders. Win or lose in the playoffs, their achievements on a long road this season have been magnificent.
No other side in Super rugby would have achieved so much without a home ground. They weren't all that flash against the Hurricanes, but still won against a team with supposedly everything to prove to the All Black selectors. Andy Ellis was superb, but Dan Carter wasn't the dominant tactical force he might have been in tough conditions.
Carter isn't the player he once was and his goal kicking not so assured any more. He's still way better than anything else New Zealand has at first five-eighths, though.
* Andrew Hore, the Hurricanes' warhorse, asked referee Chris Pollock if Carter was off limits after Ma'a Nonu was penalised for knocking the superstar first five-eighths over on Saturday night. Nonu was hard done by because the tackle wasn't late.
But the dreadlocked wonder should quit his habit of shoulder charging, which is illegal in rugby. Nonu didn't use his arms in the Carter tackle, and that's just asking for trouble.
Sonny Bill Williams gets away with shoulder charging but he'd also be best advised to desist or else a World Cup ruckus will ensue.
* The Blues reckon their "mojo" is back but they are the same erratic mob of recent years. When it comes to the Blues and Auckland, I'm old school.
This should be the finest rugby province in the world. Anything too far below that isn't good enough. And these Blues ain't good enough yet.
* The Warriors might have a new superstar on their hands. And then again, they might not.
Halfback Shaun Johnson has the goods, but will he deliver?
His try against the North Queensland Cowboys showcased sensational speed. But he was put in his place by Cowboys star Johnathan Thurston, who took over the game once his team mates fired up. Thurston dismantled the Warriors. Johnson has to learn how to read the game.
The Warriors' wings drifted infield and Thurston's long, flat passes made them pay. Manu Vatuvei has always struggled in this respect.
Back to Johnson. He can turn defenders into turnstiles, and get the turnstiles clicking. The heart races when he gets the ball. But the Warriors are not always a top bet for turning talent into the real deal.
* The Warriors' winning run has turned into a losing one. The NRL will find out all teams eventually. Unless you are a cut above the rest, and the Warriors aren't, you have your good days and your bad.
Even the Dragons have come to a shuddering halt from the drain of the representative season. This is hardly a groundbreaking call on recent form, but Manly will win the NRL. With Brett Stewart back, a cocky Sea Eagles side is a dangerous animal. No team thrives on arrogance like Manly does, and they play outstanding football.
* Golfer Rory McIlroy has been sensational in the US Open. It will take one of sport's great collapses for him not to claim the US Open this morning. Ireland, as in the whole island, is having a terrific golfing run. Eire's Padraig Harrington rattled off three quick major victories, and McIlroy's Northern Ireland comrade, Graeme McDowell, won the US Open last year.
WEEKEND WINNER
The Queensland Reds. A remarkable Super rugby season, led by the terrific halfback pairing of Will Genia and Quade Cooper.
WHAT TO WATCH
The Super rugby playoffs. The Crusaders will pummel the Sharks but the Blues are ripe for picking by the Waratahs.