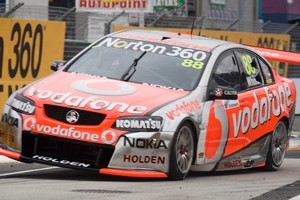 Two-time V8 Supercars champion Jamie Whincup will be hoping to continue his inexorable march towards another title at the Hidden Valley Raceway way up in the far reaches of the Northern Territory this weekend.
The TeamVodafone driver has stretched his lead in the title race to 262 points after five rounds and will be hard pushed not to extend it further at the Darwin track.
Last year Whincup and Mark Winterbottom traded the top two places on the podium over the two days with Winterbottom beating Whincup on Saturday, and Whincup taking line honours on Sunday.
On current form Whincup is the man to beat but all eyes will be on the nine drivers behind him on the point's table, including young Kiwi driver Shane van Gisbergen, as just 175 points covers all of them. And with 300 points on offer over the weekend, it's anyone's guess how the cards will fall tomorrow afternoon.
Van Gisbergen, fifth in the championship, is in a confident mood heading into qualifying this morning, as Darwin has been a happy hunting ground in the past where he's stood on the podium.
"We did really well at Winton [last round] and were doing great in race one until we got taken out in turn one, but we had a good second race finishing fourth," said Van Gisbergen.
"If I can start near the front it makes it easier because we have a good car and good car speed. It's easier to keep smooth and get a good result. All year we've had great race pace and can stay with the frontrunners." As at every round so far, qualifying is going to be vital, especially in Darwin where 70 per cent of the winners have come from the front since 1996. Only one winner has come from outside the top eight qualifiers and that was Russell Ingall in 1998 when he started from P13.
"You've got to qualify really well and not down the field as I have sometimes in the past. There's just too much drama going on at the back where everyone is trying to get through to the front. When we qualify well we can stay up there and race all day," said Van Gisbergen.
Whincup has sat on the front row in nine of 11 starts this season and will be keen to grab his team's first pole at Hidden Valley.
"Darwin has been good to us but unfortunately that doesn't guarantee us of a good result this weekend," Whincup told BigPond Sport.
"I think good horsepower and tyre life are the things we will need to focus on. We all have to run the soft tyres during Sunday's race so deciding when to run on them will be a critical decision."
Meanwhile, hovering just outside the top 10 in 11th place just 76 points behind Winterbottom, another fast Kiwi, Fabian Coulthard, is raring to go in an effort to grab a fist full of points.
"We had a good round at Winton with a 10th and fifth and obviously we're going to try and continue the momentum here in Darwin," said Coulthard.
"I'm not dwelling on the past like last year when we had a shocking time, as we've been to places this year where we had a shocking time last year and come away with top 10 finishes. Things are starting to come together and we're in 11th in the championship for a pretty good reason because we've had a good year so far and looking to continue it. I've said all along that Results come with continuity and we're all starting to understand each other and gel as a team."
Don't rule out a good showing from the other Kiwi in the pack - Greg Murphy. The long-term stalwart of V8 racing is having one of his best seasons in a couple of years and sits mid table in 16th with nine rounds to go in the championship.
In another twist to the series' continuing soft tyre story, drivers this weekend will get to qualify and race on the original hard compound tyre today before being allowed the option of using the soft tyre in tomorrow's race.
This year each day's race covers a different distance, 42 laps for 120km today and 69 laps to total 200km tomorrow.
Drivers championship
1 Jamie Whincup 1234pts
2 Craig Lowndes 972
3 Garth Tander 935
4 Jason Bright 920
5 Shane van Gisbergen 913
6 Rick Kelly 887
7 Alex Davison 825
8 Will Davison 813