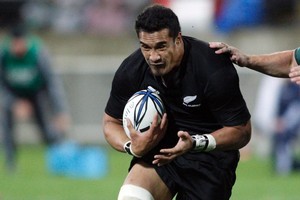 They wear the No 6 jersey and are near certainties for the All Blacks. But tonight they duel at Eden Park as the Blues and Highlanders meet in the last round of Super 15 qualifying. The Herald asked them for their take on certain matters.
Are you good buddies or very different men?
Jerome Kaino: He is quite different, but when we are in the All Black environment we get along pretty well. I'd like to think we have similar personalities and he is a good guy.
Adam Thomson: We are different characters for sure, but we are also good mates, having come up through the grades and for the All Blacks.
You play the same role, but play it differently.
JK: We have contrasting styles. I think Thommo has been playing really awesome this year.
A side of his game that I have been trying to work on is that work rate and I think the side of his game he is trying to work on is the physical. That has come a long way and he can change up his game from what I have seen this year and that is looking good.
AT: When I think of Jerome, I think of power and he is very good with the ball in hand, a big hitter and he has a physical presence. I like to range a bit wider and get my hands on the ball and be a link player. Perhaps I don't have the same physical edge.
Does he run a fast mile?
JK: I have not seen him do that, but he is quick. He's been in the sevens set-up before and he is definitely a fit man. Apart from the fitness, he is a smart intelligent footballer and that is what has helped him be really effective this year.
AT: He is no slouch. I have seen him hum along, he is a sly dog on the speed, I think. Maybe he has lost a shade since he got heavier, but he's still very handy.
Is it hard to switch roles between 6, 7, and 8?
JK: He has a hard journey with the Highlanders, where I think he has covered all three positions. That is not easy and he has even covered lock at a pinch. With this competition it takes a lot of thinking to be able to deal with all the moves and tactics used in each position, especially if you have to change mid-game against someone like the Crusaders or Waratahs.
AT: No matter if your role switches, your core skills have to stay pretty much the same. Away from the set-piece there are generic roles for loose forwards. As long as you get the mix right, do the basics like trap the ball at the back of the scrum, then you go and do the rest. Playing all three roles is good for your development.
Do you look for your opponent in matches?
JK: My focus is on my job. If you try to look at those individual battles it can take your concentration away from what you should be doing. You can fall short. The Highlanders work for each other and we cannot come out as individuals or fall into thinking like that for a game such as this. We have to work as a unit and as a team.
AT: Not too much except when there are set plays or where you think Jerome will be used because of his skills. He is a very effective ball carrier so I am aware of that in defence and we will both know what the other is roughly going to do because we all do lots of homework on the computer.
You have been working in close a lot more in a tight/loose role?
JK: Yeah, I found that a lot of the bigger guys like Charlie Faumuina are out in the open and they have stepped up so there is no need for me to be doing that. I'm just staying tight and trying to get the ball back.
AT: I have been trying to be more physical, that is something I've been working on. The ball carry, defence and accuracy at the ruck are the main three areas I have been concentrating on.
Does that help for the test programme where getting little things right is crucial otherwise the jigsaw doesn't work?
JK: Especially with the All Blacks set-up, you do not get the plums unless you are going to get in there and work. I have been trying to work on my tight game. It does not come naturally, but I need to get used to it.
AT: It is a boost. Test matches are another step up from the Super 15 - there are not as many opportunities for running rugby. All the players are highly skilled and internationals are a different game. There is not the same chance of expression, so sides generally resort to a more direct, physical approach.
Does it seem more natural with All Blacks?
JK: Yes, we seem to read each other well and slot into our roles.
AT: Much more. You are surrounded by class players and you are a little piece in the big picture.
It would be handy to get a win tonight, wouldn't it?
JK: The last four games have been quite hard to take and we have come quite close in a couple of them, but with us it takes a split second of mental lapses and teams like the Crusaders can punish us. A win would be great going into the playoffs, victory is all about us regaining our momentum.We have taken a lot from the Crusaders game about how we need to play especially in the forwards.
AT: Definitely. The Blues get a chance to carry on in this competition, whereas this is the last roll of the dice for us. We are proud of what we have done this season, though we have gone off the boil in the last few weeks. But we want to leave ourselves and our supporters with good memories of what we have achieved. What could be better than getting a win at Eden Park and taking the Gordon Hunter Trophy?
JEROME KAINO
* AGE: 28,
* HEIGHT: 1.96M,
* WEIGHT: 109KG,
* TESTS: 37
ADAM THOMSON
* AGE: 29,
* HEIGHT: 1.96M,
* WEIGHT 112KG,
* TESTS: 17