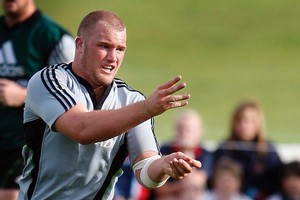 The All Blacks and New Zealand rugby have hit the ground crawling in World Cup year.
Sonny Bill Williams' latest injury only adds to the staggering number of question marks over the leading lights for the World Cup squad, from the Blues fading and missing front row veteran Tony Woodcock to Mils Muliaina's insipid form for the Chiefs.
Even the injury-prone Richard Kahui managed to get injured again last weekend.
For a team with an undisputed world No 1 ranking, and a brilliant post-2007 World Cup record, there is a strange air of uncertainty around this impending All Black campaign. With so many doubts around Richie McCaw's fitness and preparation, the All Blacks actually look like a heavyweight ripe for knocking down. They should have dropped to only very slight World Cup favourites for now.
As the final stages of the test season approach, things could hardly have gone worse for the pre-tournament favourites in terms of form, fitness and fervour. There are two all-New Zealand clashes in this week's final Super 15 round, and the build-up is noticeably underwhelming.
Some may argue New Zealand is lying in wait, building towards the World Cup. Playing badly in near-empty stadiums is a strange way to prepare, but each to their own.
Sackings, injuries, poor form, poor teams, the earthquake tragedy and boxing distractions ... Graham Henry will be itching to get his squad together to ignite a new mood, but New Zealand just haven't put out the vibe of an imposing fortress awaiting the other World Cup contenders.
One shining light is Owen Franks, the newly bearded behemoth from Canterbury who is well on the road to becoming the finest tighthead prop this country has produced.
He is already much better value around the field than his predecessor, the vaunted Carl Hayman. New Zealand have had fine defensive props such as Greg Somerville, who did a competent rather than confrontational job in the line. None has hit as hard as O. Franks, a man who looks as if he emerged from the bush to stop opponents in their tracks. His scrummaging is on the same level, and he carts the ball up effectively in short bursts. And he's only 23 years old. Owen Franks is so good that he should qualify for a sabbatical.
Brother Ben isn't bad, but Owen is on another level and heading for All Black greatness.
Where are the other World Cup desperadoes moving heaven and earth to impress Henry? The Chiefs, Highlanders and Hurricanes are third rate. The Blues are second rate. The Crusaders are still not at their best, but they are always likely to find first rate.
New Zealand rugby is in a holding pattern, a dangerous place to be in a World Cup year. The pivotal decision-making - with the exception of Dan Carter - is erratic and poor.
Of those already in the inner circle, Owen Franks and the injured Isaia Toeava have made big statements, with only a few others such as Kieran Read, Jerome Kaino and Keven Mealamu in decent form.
Others - Cory Jane and Andrew Hore spring to mind - have gone backwards and Neemia Tialata is still not the imposing force he should be.
The general reaction to this weird carnage has been muted, as if this can't really be happening. But it has happened, right before disbelieving eyes.
As for the concept that a lack of build-up success is a good World Cup omen ... Owen Franks is what I'd rate a good omen.
NRL THROWS DOWN GAUNTLET
Two NRL matches last weekend showed why rugby union will face a serious challenge for viewers in this country if it can't provide more ball playing action.
All sports have their strengths and weaknesses, and this is not to put rugby down. But a new breed of sports watcher may not be so impressed with the mysterious elements of rugby as opposed to the blatant thrills of TV-friendly league.
The clash between the Warriors and Tigers at Mt Smart Stadium was sensational viewing. The Tigers' comeback was a thriller and the noise coming out of the stands reflected the brilliant state of play.
Tigers forward Gareth Ellis delivered a fantastic no-look pass for Benji Marshall's try, the spark that ignited an unlikely victory. That Ellis pass will live long in the memory.
The Warriors won't feel like celebrating, but they contributed to one of those games which make all the mundane stuff worth wading through. This was a gem.
The heated clash between the Melbourne Storm and Sydney Roosters on Monday night was another heart-racing classic. There was serious animosity going on.
Craig Bellamy, the Storm boss, is the best club football coach in the Southern Hemisphere. No matter the trauma or drama - salary cap disasters, players leaving, teams depleted by the State of Origin - his club thrives on a production line of high-quality players perfect for his plans. Bellamy's teams are great to watch, unlike the pace-setting St George Illawarra, who have the staid personality of coach Wayne Bennett.
Watching the animated Bellamy living every moment and issuing instructions as if his life depends upon them, you wonder how top coaches take the strain.
Bellamy's teams are relentless.
Almost everyone who pulls on a Storm jersey is imbued with power, pace, patience and poise. Fundamental to this must be high fitness levels. Bellamy is a coaching genius.
GOOD CALL FROM CLEARY
Ivan Cleary is a wise man to reject overtures from Penrith.
For starters, the Warriors coach is hardly going to walk away from a job only partially done in Auckland. But Penrith coaching prospects will be wary with Phil Gould installed as the Panthers' new overlord.
Gould was a top club coach with an outstanding State of Origin record, and he's an entertaining and insightful commentator on league. Gould is no shrinking violet. Any coach going to Penrith might consider putting the label "co-coach" on his door.
NSW LOOKING UP
The State of Origin is a fabulous series, even if some of the character of days gone by - Wally Lewis, Mark Geyer, et al - has disappeared. New South Wales need to break Queensland's grip to give the series fresh legs. Through design and/or accident, New South Wales look stronger for tonight's match compared with game one. They should square the ledger.
CADDIE'S SABBATICAL
It's not only Dan Carter who gets a sabbatical. Caddie Steve Williams has been given permission by Tiger Woods to carry Aussie Adam Scott's bag in the US Open. If Scott should win, will Williams ring Tiger to say "don't Come Monday"? Of course not, although a Scott victory might get Williams thinking because Tiger is dropping fast - physically, in the rankings and in terms of success. The Scott-Williams combo adds interest to this week's tournament.
YADA YADA YADA...
Britain's Andy Murray sounds optimistic going into the Wimbledon tennis tournament. Yawn.