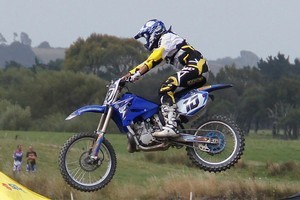 Motueka's Josh Coppins is determined to step it up across the Tasman this weekend.
Racing for the CDR Rockstar Yamaha Team in Australia, Coppins is currently third overall in the Australian Motocross Championships after five of nine rounds.
Round six of that series is set for Coonabarabran, New South Wales, on Sunday and the Kiwi hero knows he needs to start winning races again if he is to reclaim the top spot he had held after round three in the series.
It has been an up-and-down season for Coppins in Australia.
His opening bid for the Australian crown, at round one in March, ended with him just seventh overall at the end of the day's racing.
But he won both the rounds that followed and that shot him to the top of the standings.
Coppins started the day strongly at round four, finishing 2-4-2 in his three early races, but then disaster struck when he failed to finish his fourth and final race of the day, dropping him back to fifth overall for the event and down to second in the championship standings.
It was a similar hard-luck story at round five in Toowoomba four weeks ago when sticky, clinging mud made the racing something of a lottery.
Fellow Kiwi Cody Cooper (Suzuki) won the day at Toowoomba, enabling the Mount Maunganui man to recover some of the ground he'd lost after a crash at round two had sidelined him. But former world No2 Coppins managed only 9-5-5-5 placings in the slick conditions and dropped further down the series standings.
Coppins has been busy, however, in the past few weeks, winning the big annual Michael Godfrey Memorial Motocross near Christchurch, before returning to Australia to conduct more bike testing.
As well as finishing 1-2-1-1-1 to win the MX1 class at the Michael Godfrey event, Coppins also won the event's feature race, ending that race ahead of former national champion Michael Phillips, of Rotorua, Christchurch's Justin McDonald, Nelson's Jared Guthrie, Christchurch's Andy Blanchard and Nelson's Shannon Hewetson, with Gisborne's Matt Hunt bringing his 250cc two-stroke Yamaha to the party as he finished seventh.
"This is the premier South Island motocross event and a thrill to ride," said Coppins.
"It was great to catch up with some old friends and also to put on a show for the good-sized crowd. To think I have not raced here since 1992 ... I was just a kid, on an 85cc bike back then.
"I'm back in Australia now, testing the Yamaha ahead of the next round of the Australian nationals. I really need to be at my best over the remaining rounds in Australia. I've got a bit of catching up to do."
Phillips and McDonald are also racing across the Tasman - Phillips currently sixth in the MX1 class standings and McDonald ninth in the MX2 class - and they, too, will be keen to move up this weekend.
Kawasaki rider Dean Ferris leads the MX1 class and fellow Australian Matt Moss (KTM) leads the MX2 class after five of nine rounds.