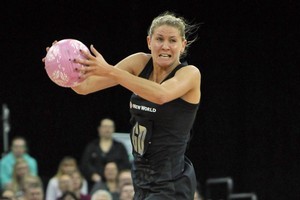 They are the Silver Ferns' awesome foursome. The term usually brings to mind Australian swimmers and British rowers but now New Zealand netball has a quartet deserving of the tag.
The defensive end - comprising Casey Williams, Katrina Grant, Anna Scarlett and Leana de Bruin - is probably the greatest in Ferns history and one of the best sections on the court in world netball.
In recent times, perhaps only the Australian attacking rotation at the 2007 world championships (where Norma Plummer could use any combination of Sharelle McMahon, Susan Pratley, Natalie Medhurst or Catherine Cox under the hoop) has been comparable.
"It is a real challenge in terms of how we use them," admits Ferns coach Ruth Aitken. "In any other team they would all deserve to be starting. They are all top players in their own right and it certainly gives plenty of choice - and a bit of a headache."
Williams sat out Thursday's loss to Australia and, while her absence was felt in a scrappy match with a lot of turnovers from both sides, the central defence will want to put in a better performance today.
The sight of Anna Scarlett and Leana de Bruin missing at times and failing to get on top of a sometimes misfiring Australian defence was not an awesome start to the international calendar for the foursome.
De Bruin and Scarlett have not played together much so there's a hope they will be better for the experience, with the world championships looming next month.
The midcourt - which spluttered when Temepara George was substituted - and attack (where the Ferns decided to switch shooters Irene van Dyk and Maria Tutaia) was where the match was really lost.
Australia's substitutions also appeared to work better.
Van Dyk has struggled this season with 1.96m defender Susan Fuhrmann and that pattern continued when Fuhrmann came on.
Van Dyk's body language at the end of the match was not good. Switching shooters, so van Dyk came out of the circle and tried longer shots with Tutaia closer in, did not work well - although van Dyk still had the best percentage shooting of the night.
Aitken has ample flexibility at the defensive end of the court, enabling her to change systems and strategy to fit the opposition, as well as tactical flexibility within a match. But she may not feel as free to experiment in today's test at the other end of the court.
"When you play at international level, you have to keep other teams thinking," says de Bruin of the foursome's overall ability.
"Each of us brings something different and it's great to have so many options. I'm just glad I don't have to make the decision."
De Bruin and Scarlett are the old firm, having made their debuts back in 2002 and 2003 respectively, though they have not played together much in recent times.
Scarlett had a three-year sabbatical between 2007-10 while she pursued a beach volleyball career.
Williams, who is still only 25, has played 57 test matches since her debut in late 2005. She was made the 23rd captain of the Ferns in August 2009 and has led with her unique brand of passion ever since. Grant played her first match at the age of 21 in September 2008 and already has 27 caps.
Williams and Grant were the preferred combination in the Commonwealth Games final but it remains to be seen if they will be the top two in Singapore.
"Katrina Grant's strength is on the low ball," says Aitken. "She is a really nuggety defender; she works really hard at ground level and that is why traditionally she has been the go-to girl in terms of combating the Australian style.
"In contrast, Leana has traditionally been our Jamaican option because of her height but she has really improved her low ball game this year," says Aitken.
"The challenge for Leana is that we see her as both a goal defence and a goal keeper and she has just played goal keeper this year [at the Steel] - so it will be a test of her lungs out there."
Scarlett made a strong impact at the Commonwealth Games. With a successful Mystics campaign under her belt, Aitken expects even more in 2011.
"We think Anna brings the surprise factor," says Aitken. "Her real strength is that she can come in and do a specific job. We will tell her we want that shooter's shot put off and she is like a dog with a bone. She can terrorise attackers."
Scarlett's match-turning cameo further up the court in Delhi also remains fresh in Aitken's mind.
"At wing defence she has the ability to keep the mid-courters off that circle edge and get that ball lifted; that is something that her long arms are really useful for."
Aitken is most effusive about Williams.
"Casey is just world class," she says. "She can play both up and low which makes her really unusual.
"Her ability to hang in the air is quite incredible and she is a great reader of the game.
"From goal defence, her vision and ability to drive through make her one of the best attacking goal defenders in the world. The way she calmly but effectively brings ball through court is something very important for our team."
Grant is resigned to another intense battle just to make the final seven.
"It will be another competitive season for us defenders," says Grant. "We always battle it out hard. We know we have to be in top form just to get on the court."
The Pulse captain talks of a 'defenders club' - the four become a sub-group when the Ferns split for quiz nights, meetings and game evenings - and claims the rivalry is intense but friendly.
"We all get on so well," says Grant. "We don't even care who gets on as long as the job gets done and we win the game."