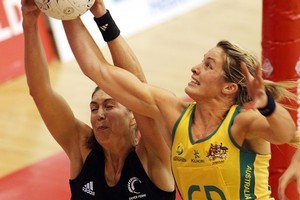 Australia 52 Silver Ferns 47
Any doubts over the competitiveness of the new-look Australian line-up were firmly laid to rest last night, with the Diamonds upstaging the Silver Ferns in Palmerston North.
The Ferns, who were playing at home for the first time since their Commonwealth Games triumph last year, enjoyed most of the early running in the match and held a comfortable 29-25 lead at halftime.
But buoyed by the substitution of debutant Chelsea Pitman at wing attack and 1.96m defender Susan Fuhrmann, the Australians produced a strong surge in the second half to charge past the experienced New Zealand line-up.
Under the increased physical attention the Ferns appeared to lose their way in the third quarter, and once they got in to chase mode and tried to make things happen, the wheels well and truly fell off.
New Zealand coach Ruth Aitken was disappointed that her side couldn't push on from their strong start.
"I think we ran out of legs a little bit towards the end there, it did get quite scrappy on attack. I think we've got to let the ball go more, but that doesn't come without a little bit of pre-movement."
While both sides have played down any notion that the results of the series, which wraps up in Auckland on Sunday, will have any psychological impact on the teams ahead of next month's world championships, last night's win will give the young Australian line-up a huge confidence boost.
Given some of their combinations are only a matter of days old, there is still a lot of improvement left in this Diamonds side and that is just what coach Norma Plummer is demanding in Auckland on Sunday.
"It wasn't a very pretty game, it was very, very sloppy. We need to really go back and cut down our turnover rate," she said.
Likewise Aitken will be looking for a much more consistent performance in Sunday's second test.
Aitken wanted to balance the twin objectives of testing combinations, while still notching up a win against their transtasman rivals.
By that measure you mark it down as two crosses.
Not only was the scorecard not in their favour, but Aitken managed to make just one change out on court, with Liana Leota coming on at wing attack for Temepara George at halftime.
But after a sloppy third quarter, in which the Ferns were restricted to just nine goals, George was reintroduced in the final spell.
However, the Ferns did start with one forced change with captain Casey Williams ruled out of the test with a calf strain. The star defender pulled up sore after a training run earlier in the week, and while the Ferns management are happy with the way the injury was progressing, they opted to keep Williams on the bench as a precaution.
That saw the long levers of Anna Scarlett and Leana de Bruin combine in the defensive circle - a combination that has had little time together.
While the pair managed to come up with some brilliant individual ball, their connections at time struggled and they failed to take full advantage of a scrappy Australian attack.
The battle between the junior teams will also go to a deciding test in Auckland, after the New Zealand under-21s fell to a 43-40 defeat at the hands of their Australian counterparts in last night's curtain-raiser. New Zealand won the opening game in Porirua 52-44.