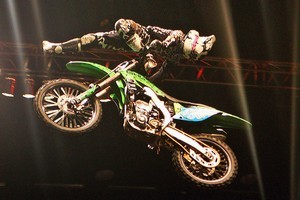 Kiwi freestyle motocross star Levi Sherwood is out of next month's X Games in Los Angeles after crashing during a practice session in the weekend.
The 19-year-old, who was nominated for a Laureus sports award earlier in the year, will be out of action for several months after suffering a number of injuries including a broken wrist and a lacerated liver.
The crash took place in Las Vegas during a training session ahead of a Nitro Circus Live show, ESPN.com reports.
"My bike skipped into neutral on the takeoff - I don't know how or why, I haven't really quite figured it - but I came up short and broke two bones in my left wrist, lacerated my liver, bruised my lung, banged my kidney around a bit, and fractured a couple of vertebrae," he told ESPN.com from his hospital room in Las Vegas.
"It's FMX: S-- happens. My back is what hurts the most and I know I'm lucky it wasn't worse."
It's a huge blow for Sherwood who has had a standout 12 months in the sport which included a silver medal at last year's X-Games. He has held his own in the Red Bull X-Fighters tour this year, currently sitting in fourth place.
"I knew before I even hit the ground that I'd be missing all these events coming up, and after talking with my doctors this morning I don't think I'll realistically be back on my bike for two or three months.
"It's just been one of those years this year and things haven't gone my way, but I'm trying not to get too broken up about it: I'm only 19 so I know there will be plenty more opportunities to come."
The Palmerston North teen already seems to be on the road to recovery, Tweeting the start of his healing process.
"Just took my first steps out of bed by myself... To get a brownie. Was so worth it."
- HERALD ONLINE