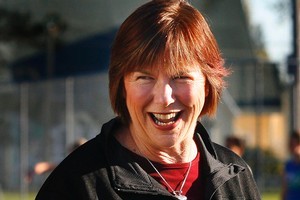 For Silver Ferns coach Ruth Aitken it is a "pre-test", while for her Australian counterpart Norma Plummer it is a "distraction".
But while the two rival coaches offer varying opinions on the value of this week's two-test series, their objectives remain the same.
Both want to develop combinations and fine-tune game plans in the lead-up to the world championships but neither will want to concede anything less than a month out from the big event.
The abbreviated transtasman series kicks off in Palmerston North tomorrow, before moving to Auckland for Sunday's second test.
There is no doubt about it, the tests are merely an entree for what is to come - the only prize that matters this year is the world title in Singapore.
In fact Australian coach Norma Plummer would rather not play these two games at all.
While acknowledging the commercial factors behind the scheduling of the tests, Plummer would prefer not to play the Ferns so close to the world championships.
She said the tests were a "distraction" and would restrict their already limited time on the training court.
Aitken admits it is a challenge for her side to prepare for two tough hit-outs against their nearest rivals while still keeping their eye on the big picture. But she said tackling this challenge could only help her side for the world championships.
"We feel that [the tests] probably help us to really focus our attention on getting things right quickly," said Aitken.
"It allows us to have a pre-test ... heading into worlds against the current world champions, so you can't get any better gauge than that of where we're at and how far we've got to go."
Plummer's lack of enthusiasm for this week's tests may also have a lot do with the fact that with five changes from last year's squad - two in the shooting end, one in the midcourt and two in the defensive circle - her side are more of an unknown quantity.
The Ferns have a comparatively stable line-up, with 10 of the 12-strong squad having been in Delhi last year. So from a scouting perspective it's the Ferns coaching staff that have the most to gain from this series.
Aitken said she would be interested to see how far Plummer would go with testing her combinations or whether she opted to keep her cards close to her chest in the lead-up to next month's tournament.
"Potentially they'll have more things that they could hide, because they have a lot of new blood in there. And while nothing much is secret after ANZ, it will be the way they combine together which is slightly different. There is a lot of variety that they've got available to them," she said.
Aitken too may be tempted to keep a wildcard up her sleeve for next month's tournament.
But she believes there is more benefit to testing combinations in the pressure-cooker environment of a transtasman test.
"In the end it's almost not about hiding things, it's about executing what you do really well and under pressure, so this is a good kind of litmus test for where we are at," she said.
TEST SERIES
Silver Ferns v Australia
* Tomorrow, Arena Manawatu, Palmerston North
* Sunday, Vector Arena, Auckland