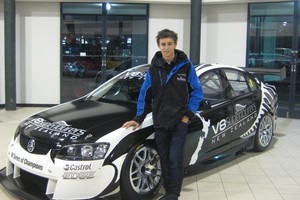 Once upon a time, manhandling the big V8 taxis around a race track was the bastion of gnarly middle-aged men with forearms the size of tree stumps.
The past few years have seen a sea change in the type of drivers who are gravitating towards the big banners as technology and chassis development have made the tin tops more driveable.
It is also becoming obvious that it is a much more cost-efficient way of getting into top-tier racing and making a living out of racing cars.
The V8s are becoming more and more popular and younger and younger drivers are seeing them as a way to go racing full time. The youngest, by far, to decide V8 racing is the way to go is 15-year-old Andre Heimgartner.
He is New Zealand's youngest national motorsport champion and is hoping to make his touring car debut in the new V8 SuperTourer series that has recently been announced.
Although the prototype of the SuperTourer has been put through its paces recently, Aucklander Heimgartner is pencilled in to drive a second Holden Commodore VE II skinned V8 SuperTourer for the AV8 Motorsport team as teammate to the two-time NZV8 champion Andy Booth.
In March this year, Heimgartner made history when the Year 11 student from St Kentigern College took out the NZ Formula Ford title at just 15. In doing so he became the youngest ever national championship winner.
The step up from a 115 horsepower open-wheel race car to a full-blown 600hp, 7-litre monster will be a big challenge for the youngster.
"To be honest, this is quite unreal. A dream come true much sooner than I could have imagined," said Heimgartner.
"To be able to advance my career like this and have the opportunity to learn from and test myself against some of the best drivers in Australasia is something I had to jump at.
"I'm so thankful for this chance I've been given by AV8 and my supporters; I hope to be able to repay their confidence with my performance on track.
"I haven't driven a V8 race car before, but my dad's got one of the fastest TransAms in the country so I'm going to be testing in that quite a lot," Heimgartner said.
"Hopefully I'll be able to try the SuperTourer at the next test day, we're waiting for a fine day as the last two tests have been in the wet."
Heimgartner has put his toe in the tin-top waters in the past, most recently at the Altherm 1000 three-hour endurance at Hampton Downs where he and co-driver Stefan Webling were running second behind the experienced pairing of Andrew Bagnell and Ant Pedersen, the eventual winners.
"The two of them were doing really well and lying in second place until the clutch blew, ending their race," said Heimgartner's father, Mark.
"Seeing how well he did in the Porsche certainly helped us make the decision to get Andre involved in tin tops. But in all fairness, one of the bigger reasons to get involved in the tin-top pathway to a professional drive is cost.
"Any drive in open-wheel racing in Europe costs anything from three quarters of a million to one and half. And that's just to get a drive, even if you're good enough. It's much the same in the States as well.
"The situation today is that young single-seater drivers - even if they are very passionate about single-seater driving - is that if they want to make a career out of it, pragmatically and more realistically an affordable route would be through tin tops."
A big plus for Heimgartner is the team he's joining.
He has the opportunity to work alongside and be mentored by his very experienced teammate, Booth.
The double NZV8 champion and former NZ Grand Prix winner is also a co-owner of the AV8 Motorsport team and was instrumental in the decision to offer the young champion this opportunity.
"I'm really looking forward to working with Andre and doing what I can to help his career path in motorsport," said Booth.
"We've talked for several years about wanting to run a young up-and-coming driver in a development role alongside me, and in Andre I feel we've found that guy. He's got obvious talent and is driven to succeed. Hopefully I can help develop his driving and assist him with the more commercial aspects of the sport as well."
AV8 Motorsport team principle Wayne Anderson is equally enthused about bringing Heimgartner on-board in the second car.
"It's great to be able to make this announcement so early. For AV8 to be able to offer this opportunity to Andre is a big boost for both sides, the sport gets to help one of its young stars hopefully on his way to bigger things and Andre can test himself against and learn from the most experienced touring car drivers in the country.
"Now he needs to make the most of that." The new V8 SuperTourer Series will take place over seven rounds from February to October 2012, starting at Hampton Downs.