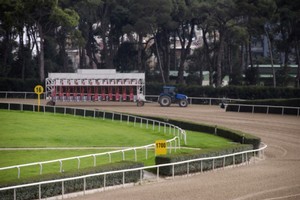 Robert Famularo knows he may never get a better chance to conqueror harness racing's "last frontier".
But he loves his champion filly Carabella too much to ask her to take on the world.
The superstar showed the slightest effects of a long season when she clung on to win at the Harness Jewels at Ashburton on Saturday, her 12th win in 13 career starts.
The all-the-way victory took her to within pocket change of $500,000 in career stakes but that tally could easily be doubled in coming months if owner Famularo wanted to campaign Carabella in North America.
While winning a major North American harness race these days seems an unachievable Holy Grail for most Australasian owners, Carabella is one of the few pacers from this part of the world to have a realistic shot at it.
Most importantly, she is bred to Northern Hemisphere time, meaning she could race fillies she was exactly the same age as but with far more racing experience.
And with her perfect manners, good gait and relentless racing style she seems the perfect product for North American racing.
To make the campaign even more tempting, Famularo has already campaigned pacers in the United States with success, winning a group two race with Bartolomeo in 2004.
However, Famularo says it would simply be too much to ask of Carabella to cross the Pacific and take on the United States flying machines.
"I think there is every chance she could be successful up there because she is so good," said Famularo.
"And being bred to Northern Hemisphere time it would make sense.
"But she has had so many great races down here we really hadn't given it much thought and to be honest, she is getting tired now."
Making the decision to stay home much easier is the fact Carabella is not staked for the major US races, meaning even Famularo's significant bank balance would take a hit entering her for the elite races.
"But it is not so much that. My heart is telling me we should look after her because she has looked after us.
"But, yes, I would have loved to have raced her up there because an opportunity like that with a horse this good may not come along again.
"It is the last frontier of harness racing for me but for now it will have to remain that."
The real shame is Carabella is so good it is hard to believe she is not at least in the best three fillies in the world and a major win in the US would provide kudos for the New Zealand breeding industry.
Instead, now Famularo and trainer Brendon Hill will consider asking her to go to the well one more time this season in the Australian Oaks in Victoria next month.
"We have canned the idea of the Queensland Oaks and we will probably do the same with Victoria and bring her back next season.
"Already we have decided she will stick to her own sex next season and not race the boys, so her clashes with De Lovely could be something special."
John Dickie's greatest concern going into the biggest day of his training career was perfection.
"To be honest, everything had gone too well and that worried me," said the Cambridge trainer after his Jewels double on Saturday.
Dickie got what he saw as Jewels revenge when first Flying Isa and Paramount Geegee won the 2- and 3-year-old trots respectively, ending a luckless Jewels run for Dickie.
He wasn't the only one smiling though, with driver Robbie Holmes also doubling up, the two horses sharing many of the same owners and both pleasing punters after starting as hot favourites.
And that pretty much sums up the season for the stablemate, both sons of Pegasus Spur, because apart from the odd off-track hassles, on the racetrack they have been almost unbeatable.
"Going into Saturday everything had gone so well I really thought 'this can't last'. So when they did win it was more relief that satisfaction.
"That will come later."
So, too, will a trip to Australia for both trotters as they head to Victoria for the Australasian Breeders Crown events, with Paramount Geegee taking on the best of the locals in the Victoria Derby on the way.
That means he has a shot at finishing his 3-year-old career the winner of over $600,000 - an unheard of amount for a young trotter in this part of the world.
And Dickie admits Flying Isa is at least just as good.
"I can't split them, they are pretty much equal.
"But to have both of them racing so well at the same time, to win two on Jewels day, that really is something special."
CROWNING JEWELS
Run of the day: Fly Like An Eagle: Brutal performance from wide draw.
Shouldn't have won: Cowgirls N Indians: Came from impossible position. Inexperienced by huge motor.
Deserved better: Hands Christian: Bad draw, worked hard, missed by a nose.