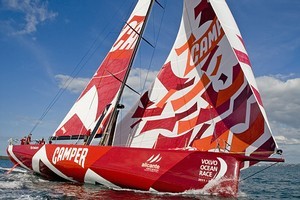 Team New Zealand yacht Camper today led during the early stages of the Auckland-to-Fiji race, after a 24-hour delay and a change in conditions resulted in the team re-entering the event.
Team NZ are preparing Camper for the 2011-12 Volvo Ocean Race and are using the 1140-nautical-mile contest to Musket Cove as part of their build-up.
On Friday, Team NZ said it had decided against going to Fiji because the predicted conditions would not allow the crew to do the downwind sail testing they had planned and Camper would instead head for the South Island.
However, the decision was reversed after yesterday's scheduled start was delayed for 24 hours because of gale-force winds and new forecasts indicated that the fleet would encountered a more varied wind regime.
When the race got going today, the 21.5m Camper was first into the Hauraki Gulf as Auckland turned on summery weather in a big contrast to yesterday's rain and howling winds.
Skipper Chris Nicholson got the favoured pin end of the start line to hit the front in a light northerly breeze.
The line honours favourite, the 18m trimaran Team Vodafone Sailing, was forced to restart after going over the line early and was second into the Hauraki Gulf.
Next among the 14-strong field were Wired and former Whitbread round-the-world race competitor Lion New Zealand.
The first yachts are expect across the finish line later this week.
- NZPA